New Boston Historical Society
New Boston, New Hampshire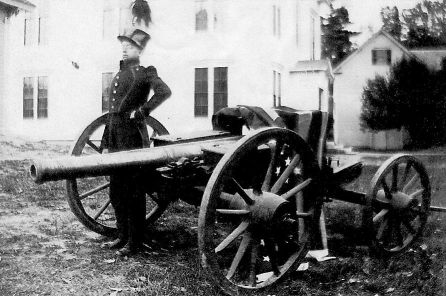 Welcome to the website of the New Boston Historical Society!
Navigating this website
Look under the cannon logo in the top left corner of each page (or page bottom if you're using a smartphone) for:
* * * July 4th Announcement * * * See the new 28-minute YouTube video: "New Boston 4th of July Parades 1947-1963" made from Lois Hersey's home movies. For more information about Lois and her movies, go to the Parades page.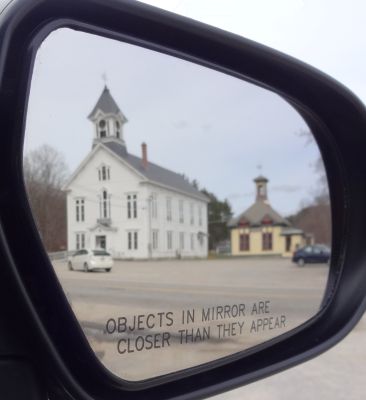 Fifty-plus years of looking backwards!
The Historical Society was incorporated in 1968, and we celebrated our 50th anniversary in 2018.
---
The "objects in mirror"
(right)
are the New Boston Town Hall and the Old Engine House.
Latest news:
7/16/2021 We updated the
"Joe English"
page now that NBAFS is New Boston
Space
Force Station.
7/04/2021 New page:
"New Boston's 4th of July parades 1947-1963"
.
6/30/2021 New page:
"Firemen's Musters"
.
6/03/2021 The museum is open to visitors once again, Thursdays 12:00 noon to 2PM. We encourage visitors to wear masks.
5/15/2021 New page:
"John McNeil and the Battle of the Margaretta 1775"
.
4/22/2021 We added stories about Bill and Shirley Mulligan to the
"Memories of New Boston"
page.
2/27/2021 New page:
"The Old Blacksmith Shop"
.
2/10/2021
New Boston students who will graduate from high school this year should note the May 7th deadline for our scholarship application!
1/31/2021 Now online:
"Under the Fire House Roof"
— a history of fire fighting in New Boston from 1845-1989 by Rena Davis.
1/14/2021 New page:
"Winter Sledding in New Boston"
.
12/12/2020 New page:
"Sargent's Goffstown-New Boston bus"
.
9/18/2020 New page:
"New Boston's Whipple Free Library"
.
8/16/2020 New page:
"Skiing in New Boston"
.
7/31/2020 We apologize that our website was down briefly due to too much traffic. We've upgraded to a service with 10X the capacity.
7/24/2020 New page:
"The Boston Post cane"
.
7/19/2020 New page:
"Bells of New Boston"
.
7/09/2020 New page:
"New Boston's Newspapers"
.
6/17/2020 We added a list of New Boston's Revolutionary War soldiers to the
"Links"
page.
2/08/2020 New page:
"A Wagonload of Soapstone"
.
1/25/2020 We added Daniel Ferson's 1841 memoirs to the
"Memories of New Boston"
page.
---
Hours: The museum is open Thursdays, Noon – 2:00 PM and by special arrangement.
New Boston Historical Society
Wason Memorial Building
2 Central Square, New Boston
Mailing address: P.O. Box 595, New Boston, NH 03070
Phone: (603) 487-2526 – We check voicemail every Thursday.
E-mail: newbostonhistoricalsociety@gmail.com
David Woodbury, NBHS President
---
Website last updated July 16, 2021.
If you have suggestions or questions about our website, please e-mail the editor, Dan Rothman:
townfarm@comcast.net