New Boston Historical Society
New Boston, New Hampshire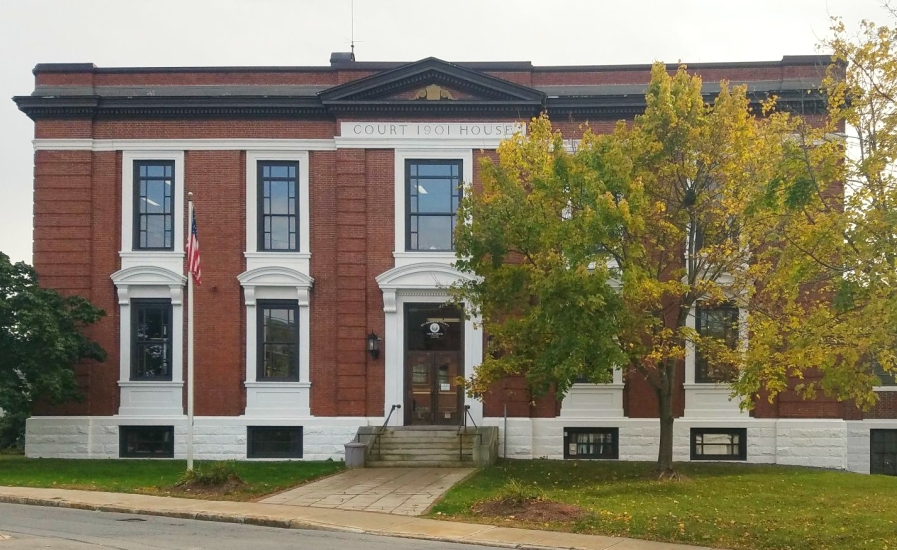 The Registry of Deeds is no longer the Hillsborough County Court House.
A Visit to the Registry of Deeds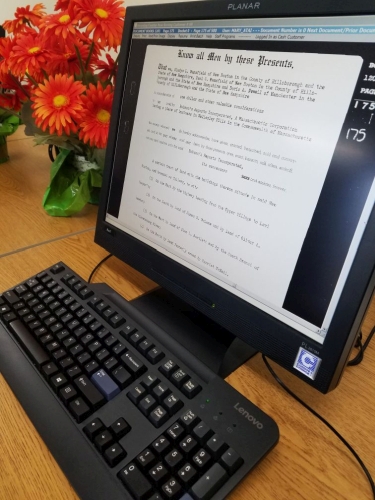 If you ask the Historical Society "Who owned my home before me?" we sometimes find an answer in our files, but more often we'll say, "You need to visit the Registry of Deeds in Nashua!" This web page will tell you what to expect when you visit the Registry.
Did you know that there are ten counties in New Hampshire? Of the ten counties, Hillsborough is by far the most populous; 30% of all Granite Staters live in this county! Each county has its own Registry of Deeds, where records of property transfers ("deeds") are filed. The Hillsborough County Registry of Deeds is at 19 Temple Street in the city of Nashua, which is one of our two county seats. (The other is Manchester; I don't know why our county has
two
county seats.)
You probably have a copy of the deed from when you bought your house. It describes your property (as the purchaser, you're the "Grantee") and from whom you bought it (the "Grantor"). You begin your research with this latest deed and work backwards in time, looking for the previous deed in which whoever sold your house to you bought that house themselves.
For example, I visited the Registry with my wife Lisa and the Historical Society's vice president Mary Atai, and we searched for deeds related to Mary's 150-year-old house. We started our search using one of the Registry's computers, but when we looked for deeds dated before 1966, we went to paper copies which are filed in large books.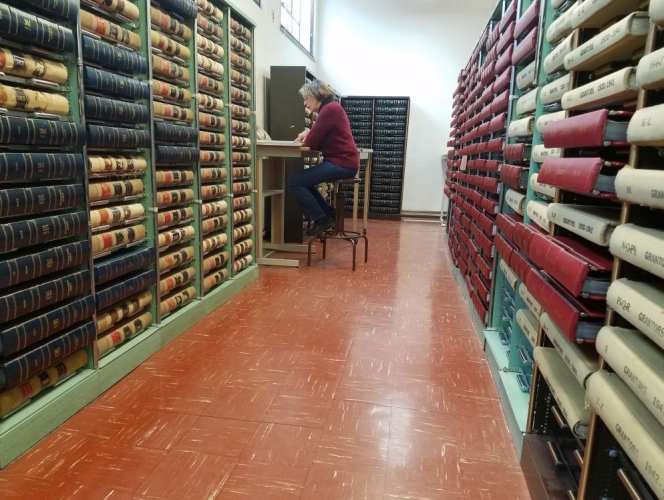 The books are heavy!
We searched the computer database by Mary's last name, and quickly found the 2017 deed in which she purchased her property from people named Kleeman. This deed (for example) is recorded on Page 1156 of Book 8950. Who did the Kleemans buy the property from? The Registry employee who helped us with our search told us to scan the
2017
deed for a paragraph which begins "Meaning and intending to convey the same premises..." That is where we found the Book and Page number for a
2007
deed, and that is when the Kleemans purchased the property. We found "Meaning and intending" in the 2007 deed, too, with a Book and Page number for a
1997
deed, and so forth. That was easy! (I would like to thank Joe at the Registry, who explained how to search for deeds. He was very patient with us.)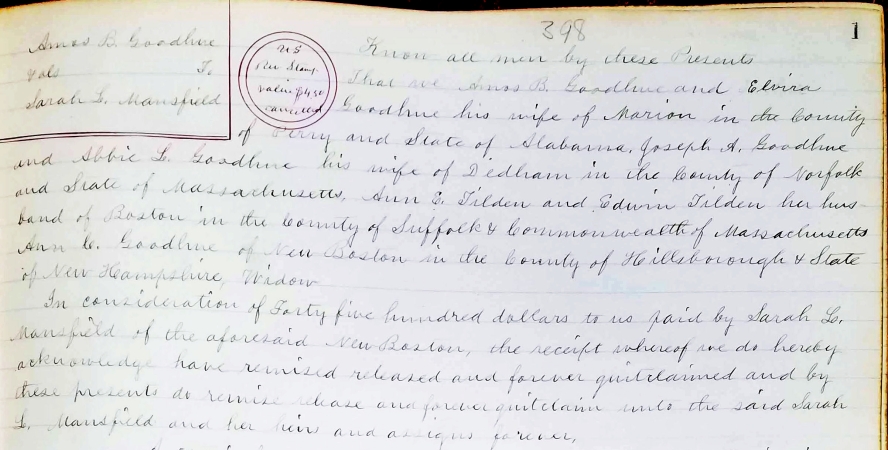 November 3, 1870. Amos B. Goodhue sells to Sarah L. Mansfield for $4,500 "A certain farm or tract of land with the buildings thereon situated." The 91 acres were bounded by properties of Lamson (now Wellswood Farm), Marden, Neville (who owned the mill that is now Molly's Restaurant) and McNeil.
As we went back in time, however, our search became more difficult. The older deeds were not computerized, and they did not have information about preceding deeds. We had to take down from the shelves the heavy volumes that are ten-year indexes of deeds, sorted by the last name of Grantors or Grantees, and look for entries for "Mansfield" or "Goodhue" with New Boston identifiers. We had to make some intelligent guesses, as various property owners had subdivided their land among their heirs or combined different parcels. It was helpful that Mary knew who some of her 19th-century neighbors were, so we could look at a deed and determine if it was for the right property.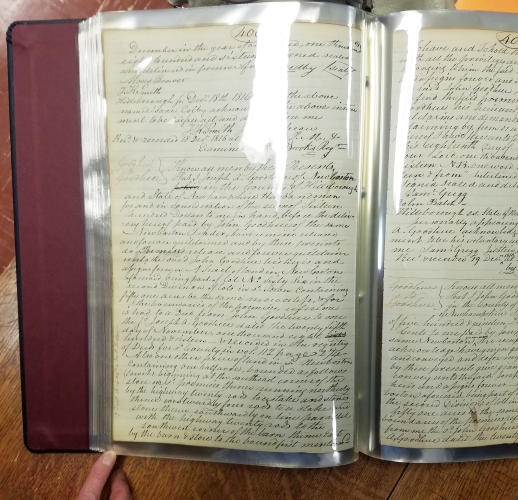 November 25, 1816. Joseph A. Goodhue of New Boston sells to John Goodhue (of the same New Boston) "a tract of land being part of lot No. Sixty Six in the second Division of lots in said Town, containing fifty one acres be the same more or less" for $1,600.
We'd brought to the Registry a list of houses we wanted to research; we left after three hours having completed only one search! This is hard work, but we had fun, especially when we looked through the oldest books from c.1800 with their handwritten descriptions of properties and people. You will have fun, too - if you are able to visit the Registry of Deeds when it is open. Their hours do not include evenings or weekends. However they do make their computerized records available on-line so that you may search for deeds dated
1966 or later
.
The on-line search does
not
work with mobile devices like smartphones or iPads. (It wouldn't work with the Firefox browser on my home PC, and my Chrome browser grumbled about Java insecurity every time I started a new search.) You launch the search application from here:
on-line search
. I did not find it intuitive to use.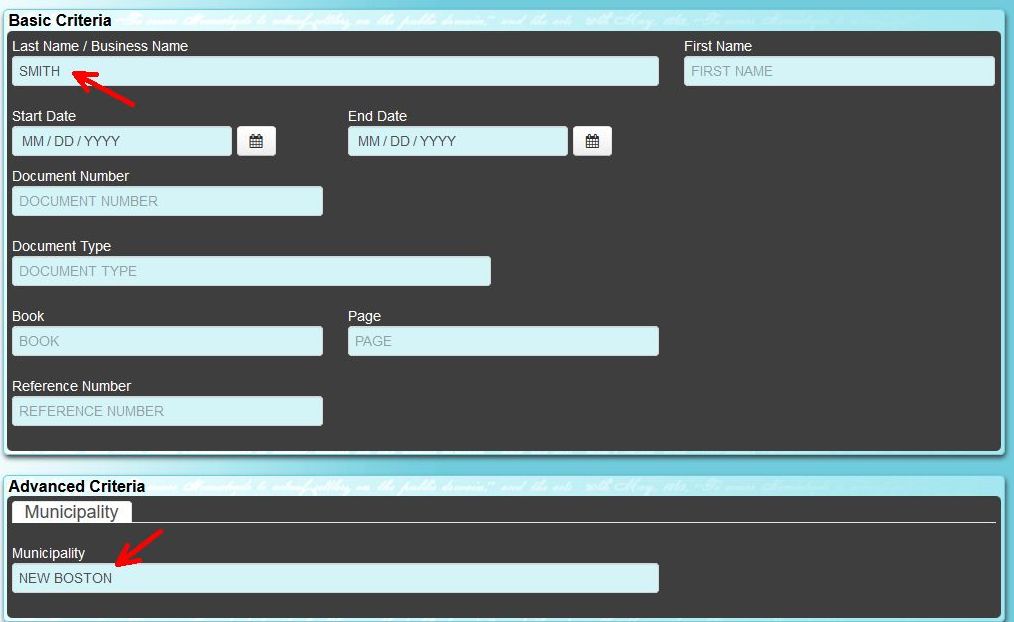 Sample on-line search from my home PC
In this screenshot of the initial search screen, I've indicated the three fields you need to change. (The "Select Town" pulldown doesn't work for me.) When you see a list of deeds for every "THOMAS SMITH" in Hillsborough County 1966-2018 (not shown above), you'll want to click on the one you want (look for location "New Boston") and then click on the View Document button. Once you know Book and Page numbers for a deed, you can enter those in the search screen above, to the right.
I found the on-line search from home easier to use
after
I visited the Registry in Nashua, and you will need to go to the Registry to find deeds dated before 1966. For more information about the Hillsborough County Registry of Deeds, including hours and directions, visit their website at
nhdeeds.com
.
Happy hunting!
-- Dan R.