New Boston Historical Society
New Boston, New Hampshire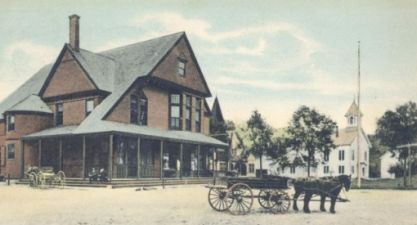 Chapters from the History of New Boston

Fire & Fire-fighting
- The Great Fire of 1887 & Historic Fire-fighting Equipment

The Old Engine House
- The Firehouse Built in 1889

Mapping the History of New Boston
- maps from the past 280 years

About the Farm
- J.R. Whipple & the Valley View Farm

Trains
- The Railroad Comes to New Boston

General Stores
- Atwood's Store and Dodge's Store

Schools
- From One-Room Schoolhouses to the Village School

Churches
- Churches and Meetinghouses of New Boston

Library
- New Boston's Whipple Free Library

Molly Stark Cannon
- From 1743 to the 4th of July

Gun Carriage
- Replicating a Carriage from the War of 1812

Civil War
- New Boston Men in the War of Rebellion

Hardtack & Coffee
- the Daily Life of a Civil War Soldier

New Boston in the Great War
1917-1918

Sgt. Ronald C. Davis
& the Davis Scenic Drive

Early Years
- New Boston in the 1700s

Counterfeiters Arrested in New Boston
- 1804

New Boston in 1823
- an old Gazetteer

New Boston in 1899
- a Photo Album

New Boston in 1911
- a Railwayman's Diary

Joe English Hill
- from Indian Wars to Satellites

The Gravity Research Foundation
- Roger Babson and New Boston

Mills on the Piscataquog
- Saw-mills, grist mills and a piano factory

The Tavern
- the Hotel and Tavern on Central Square

A Wagonload of Soapstone
- C.H. Dodge and a Francestown quarry

New Boston's Newspapers
- news you need to know

Made in New Boston
- businesses from New Boston's past

The Old Blacksmith Shop
- horseshoes, neckties, and car parts

Fine Dining
- New Boston's luncheonettes

Chills & Pills
- New Boston's doctors

New Boston and the Russian Flu
- The Flu Epidemic of the 1890s

From Vine to Bottle
- New Boston's wine industry

Old Quilts
- patchwork quilts from New Boston's past

New Quilt
- New Boston 250th Anniversary Quilt

The Gold Rush
- New Boston men go to California and the Klondike

The Past in Postcards
- Cardboard Clues to the History of New Boston

New Boston Gravestones
- A Walk through the Cemetery

Spanish Treasure and the Canada Townships
- The Life of Sir William Phips

A Bird's-Eye View of New Boston Village
- an aerial photo with Points of Interest

New Boston Weathervanes
- blowing in the wind

The Town Hall clock
- keeping time

Bells of New Boston
- ring out!

The Baker Homestead
- an 18th-century farmhouse

The Fairbanks House
- a 19th-century home

The Lazy-A
- a 20th-century underground house

Wilson Hill Farm
- a New Boston farmhouse from c.1800

The Fourth of July
- New Boston celebrates Independence Day

Summer Boarding Houses
- when New Boston was a vacation destination

Candlepin Bowling
- New Boston's last bowling alley

Memories of New Boston
- people remember the way things were

Todd's Corner
- collections of Bob Todd's columns from the New Boston Bulletin

Riverdale
- a hidden village

Photography
in New Boston - Part 1: 19th and 20th centuries

Photography
in New Boston - Part 2: 21st century

Glass Negatives
of 1890s New Boston

Vintage Toys
and a New Boston toy barn

Leaving New Boston
- the long decline of a New England town 1830-1930

Frog Rock
- what to see on Frog Rock Road

Historic Trees
- New Boston's oldest and biggest trees

Bicycles
of New Boston

Winter Sledding
in New Boston

Skiing
in New Boston

The 1908 Cider Mill
- New Boston's last operating mill

Research your home's history
- a visit to the Registry of Deeds

1927 Wringer Washer Grinder Churn
- a labor-saving device

The Great Lightning Storm
of 1916

An Eggsplosion of Chickens
- New Boston's chicken & egg industry

The Boston Post cane
in New Boston

Bus
- Sargent's Goffstown-New Boston bus
---
Future chapters may include:
New Boston's old roads
More diaries
Inside more of New Boston's old houses
HELP WANTED: If you would like to write about these or other topics related to New Boston history, please e-mail the editor, Dan Rothman:
townfarm@comcast.net
We also welcome copies/scans of your old photos, with any information you may have about names, dates and locations.
---

See some of our old photos on our Flickr page
www.flickr.com/photos/newboston
.
Instructions are
here
.