New Boston Historical Society
New Boston, New Hampshire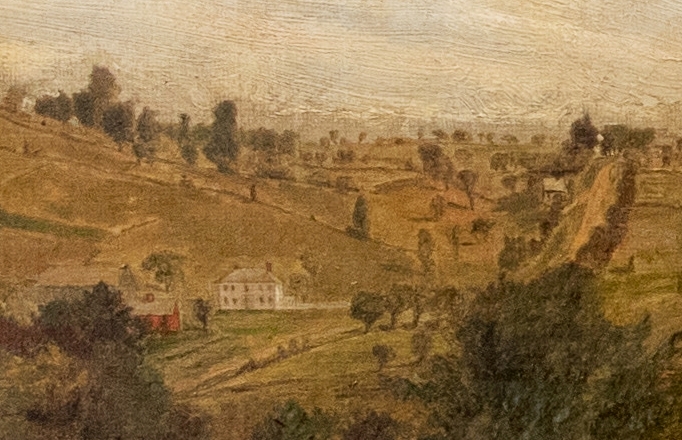 Looking north up Joe English Road
From Vine to Bottle — the Wine Industry in New Boston
New Boston is famous for its Molly Stark cannon and its Gravity Research Foundation. It is
not
famous for its fine wines. This web page explores the reasons why not.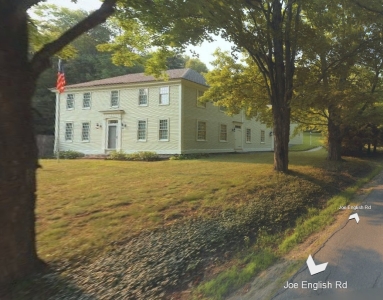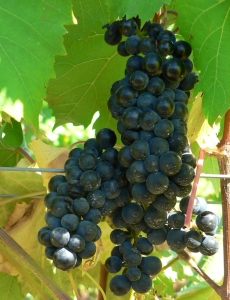 Don & Patty Grosso's house, and a bunch of Marechal Foch grapes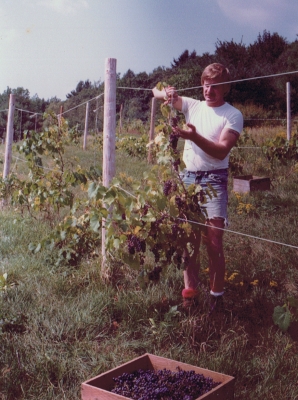 The story begins with a vineyard, which is where the grapes were grown. Our featured vineyard was planted by Don Grosso around 1974 on a south-facing slope just above his house. Don and Patty Grosso lived then (and now) on Joe English Road, north of Meadow Road. Their white house may be seen in the painting at the top of this page, a detail from a delightful landscape of Joe English Hill painted by Frank Henry Shapleigh in the late 1800s. Imagine if you will a vineyard behind this house and a little up-hill.
When I asked Don why he got into the wine making business, he said it was because his uncle gave him the necessary equipment. Uncle Angelo Mancini was born in southern Italy near Naples, and he immigrated to the United States as a middle-aged man before World War II. Angelo made wine in Waterbury, Connecticut for 35 years before giving his machinery to his nephew, Don.
Don's son David, who was in high school at that time, helped him establish the vineyard and was put in charge of weeding around the hundreds of grape plants. Don's friend Dick Moore had a tractor equipped to set fenceposts and this was an invaluable tool. Dick decided to grow grapes too, up on Cochran Hill, but we don't believe he ever made any wine.
Before he could plant his grapes, Don needed to clear the field above his house of tree saplings. He chained the saplings to Paul Barss's "big wheel tractor", Paul rolled the tractor forward, and the trees popped out, roots and all. Don purchased the grape plants as bare root seedlings, about 8-9" tall including the root. Don and David carefully planted 600 seedlings in his main vineyard and 300 in a second vineyard across the road. Don thinks Dick Moore may have planted twice as many on Cochran Hill.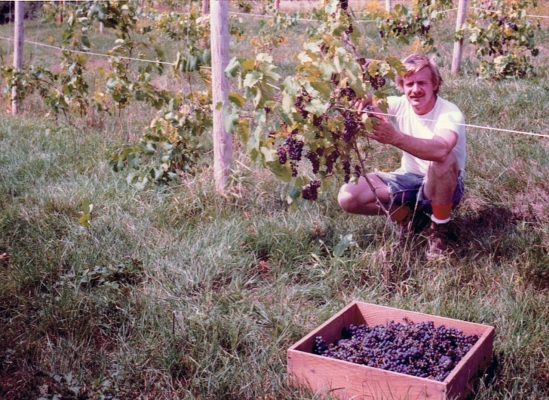 Don says you plant in the springtime and get a moderate grape harvest in September of the next year, and a good harvest the following year. Don tried to explain to me how "air drainage" from the hill and a flowing brook helped the grape plants in his vineyard escape two or three frosts each year, but this explanation went right over my head.
The State of New Hampshire encouraged people like Don and Dick to grow grapes and make wine. Some winemakers from upstate New York came to observe what the men were doing, worried about competition.
Don kept careful notes in his log about what varieties of grapes he planted, how many pounds of grapes he crushed (up to 350 pounds per batch), when fermentation started, and so forth. A favorite variety was the Foch grape (pronounced "fosh") named after a famous French General of the First World War. This grape makes a nice dry red wine. Don also tried Aurora grapes for a white wine.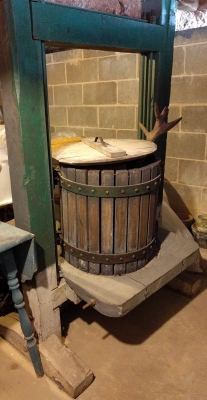 After harvesting the grapes, Don put them in the crusher he got from Uncle Angelo, placed over a 40-50 gallon wooden vat. The crusher was powered by an electric motor. A "cake" of the squashed grape skins could be squeezed to extract a little more juice; to do this Uncle Angelo employed a car jack for maximum pressure. The juice was drawn off into a wooden cask, where it fermented. Don added a little sugar, although he knew Uncle Angelo did not approve of this.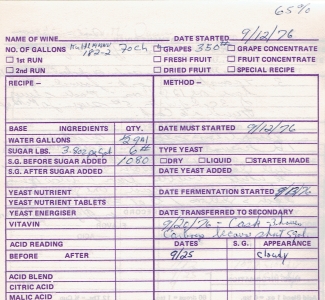 Log notes include: "Appearance: cloudy", "Flavor: harsh" and "Acid: very" as Don experimented with grapes and procedures.
Don asked his uncle how he'd know when the wine was ready. Uncle Angelo told him, "Put your ear to the cask around Easter; if you don't hear any fermentation you can drink it." Don never sold a bottle. He gave most away as gifts. I asked if he'd saved any bottles and he thought he had a 5-gallon "carboy" (a large glass bottle) and he meant to sample the 40-year-old wine sometime.
Why did winemaking cease on Joe English Hill? Don blames birds. He claims that the birds knew exactly when each grape would ripen, and they'd eat the grapes before Don could get to them. It would cost Don seven hundred dollars to protect his vineyards with netting, so he needed to be sure it was effective before he made this significant expenditure. Don and Dick drove to Goffstown to visit Everett Upton, a grape-grower who used the stuff. When they got to Everett's house, he was out in his vineyard on a riding lawnmower, using his BB gun to shoot at the birds which had gotten underneath his bird-proof netting! Don and Dick turned right around and drove back to New Boston. They did not buy netting.
A second problem Don faced was the loss of his best fieldworker when his son David graduated from high school. (David Grosso later had a long and successful career in the U.S. Army Special Forces, retiring as a colonel. No doubt he learned his work ethic laboring in the vineyards of Joe English Road!)
Don's other business pursuits were demanding more of his time, so he had to give up the vineyard. He did travel to Connecticut to bring a bottle of New Boston wine to Uncle Angelo, who was age 99 by that time. Don remembers that Angelo was nicely dressed, wearing a bow tie and suspenders. He offered Don a cup of coffee and a stogie. Don doesn't know if Uncle Angelo ever opened the bottle.
---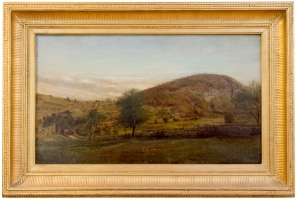 Picture credits:
The streetview photo of the Grosso house is from Bing Maps.
The photo of Foch grapes is from Wikipedia.
Don Grosso shared his photos of a much younger Don, and his wine log.
The detail from the F.H. Shapleigh landscape of Joe English Hill is courtesy of Ben and Molly (Wason) Woodbury. Please click on the thumbnail painting (left) to see this remarkable artwork in greater detail.
- Dan Rothman 11/2017