New Boston Historical Society
New Boston, New Hampshire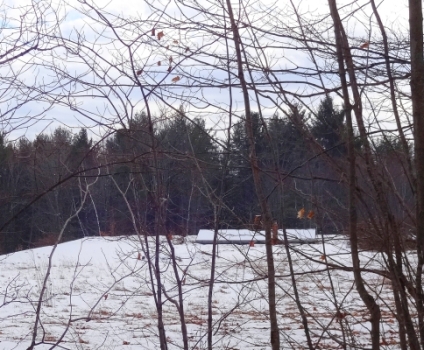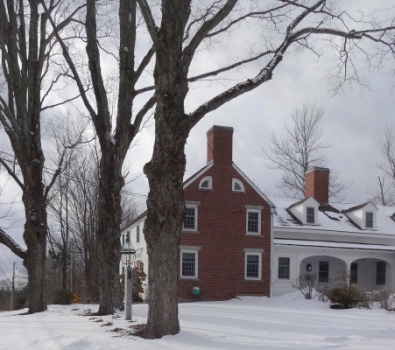 The "Lazy-A" in-ground house is across the street from a more typical New Boston home.
An Underground House
The Historical Society has featured New Boston homes from the
18th century
and the
19th century
. Now let's take a look at an unusual home from the 20th century, built in 1977.
If you bike one-and-a-half miles up Clark Hill Road from the New Boston village center, your legs will be grateful when you stop to rest by the brick-sided colonial just before Thornton Road. &nbsp Ray and Grace Louise "GL" Wheeler lived in this old house while they built their new house across the street.
Ray and GL called their new home design the "Lazy-A". You cannot see much of it from Clark Hill Road, because it's an
underground house
! (It's more correctly called an "in-ground house", as we'll explain). If you continue one mile further on Clark Hill Road, beyond Dane Road, you will pass
another
underground house. More than a few were built in New Boston and Goffstown in the 1970s and 80s.
During the 1970s, war and revolution in the Middle East led to an oil crisis. In the U.S., there were long lines at gas stations and the price of home heating oil increased many times. People turned down their thermostats, bought wood stoves, and thought about ways to conserve energy. Underground homes are easy to heat!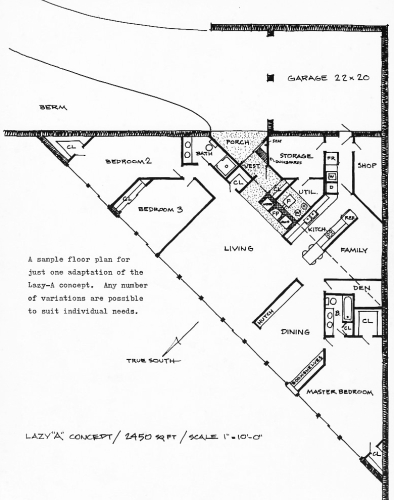 In 1979 GL Wheeler wrote a booklet titled
"Lazy-A: Building INGround with effectiveness and efficiency"
. In this booklet, GL described how she and Ray designed their "energy-efficient, low maintenance, livable home... Convinced that the energy crisis is real, we wanted a home that used as little fuel and electricity as possible."
GL and Ray considered solar collectors as a possible solution, but decided that the technology wasn't practical in 1977. They guessed correctly that solar electric power would be cost effective one day, but that was not the case forty years ago.
The Wheelers knew that building a true underground house would provide maximum insulation, but "we were not sure we'd like being moles." Therefore, they designed a house that had "a south wall of glass with the rest of the house underground - an INground home."
The Lazy-A concept floorplan is in the shape of a triangle because that maximizes the amount of glass-wall solar exposure per square foot, compared to a rectangular design. Can you see why the Wheelers called their concept the Lazy-A?
GL wrote that it took many weekends of searching to find a suitable property; one which had an open field sloping 15% to the south with dense woods beyond. (The forest provides privacy and firewood.)
Once they'd found their Clark Hill Road property, the Wheelers decided to work with a commercial contractor accustomed to working with steel and concrete construction, instead of a traditional home builder. This led to a minor oversight - everyone forgot to include an electric doorbell! &nbsp GL's solution was to hang sleigh bells in the vestibule.
The Lazy-A's roof is reinforced concrete 8" thick, supported by steel I-beams on steel posts. (The LeBlancs' "true" underground house further up Clark Hill Road has a steel-reinforced cap three times as thick as the Lazy-A's, covered by five feet of soil.)
The Lazy-A's interior walls are made of wide-board pine stained to absorb the sun's heat. The Wheelers estimated that construction costs per square foot were about 15% higher than for a conventional home, but they wouldn't need to budget for periodic reroofing or exterior painting.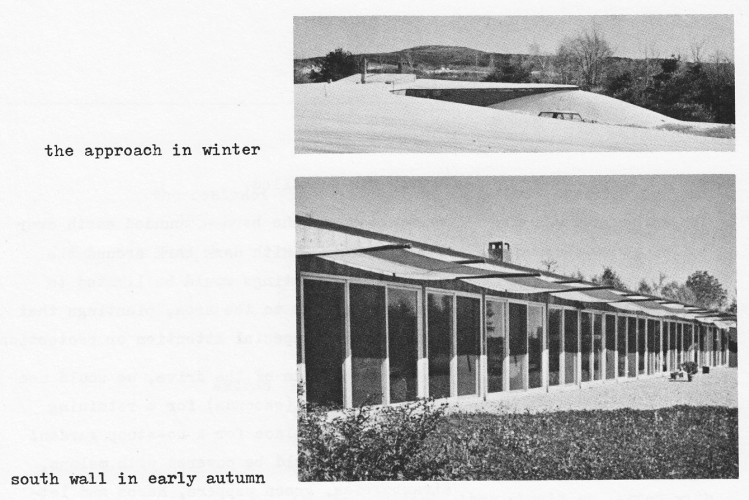 Note the canvas canopies (bottom photo) designed to shield the glass from summer sun.
White clover was planted over and around the house, as it never needs mowing.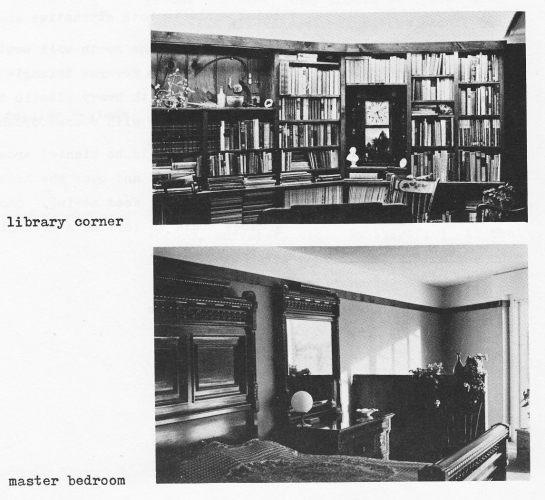 The Wheelers moved their "mix of furnishings" (75% antique and 25% modern) from their Massachusetts home.
Kitchen cupboards were custom-built after a scientific analysis of how frequently dishes, utensils, pots and pans were used!
---
After two years of living in the Lazy-A, GL Wheeler's conclusion was:
Liveability is great. The outdoors is indoors always. Sunup and sundown are both in view. Clouds race or meander behind the paper birch and black cherry trees. Chickadees and goldfinches zoom in to the bird feeder.

Not the least joy is to watch the faces of first-time guests as they step beyond the entry. It is a look of utter surprise - and delight.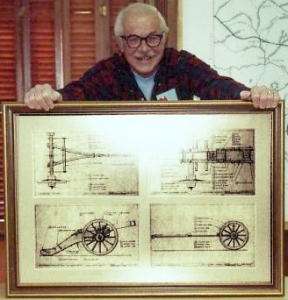 Who were the Wheelers?
Grace Louise Skeen Wheeler (1917-2005) was a self-employed graphic designer who taught at the Rhode Island School of Design. Ray Barton Wheeler (1924-1995) was an industrial engineer who worked for GE, IBM and Honeywell. The Wheelers designed their own homes in Rochester MN and New Boston NH.
GL Wheeler was a volunteer active in New Boston's Whipple Free Library. We are reminded of GL today whenever we open a library book and find one of her handwritten book reviews tucked in the pocket where the check-out card used to be.
(Click on the photo of GL's book review to enlarge it.)
Ray Wheeler enjoyed his morning coffee and newspaper at Abigail's Bakery, where he had his personal chair marked with his name. Ray made detailed drawings of the Molly Stark cannon for the New Boston Artillery Company.
We thank the Wheelers' children Dan and Susan and grandson Jack for permission to use text and photos from GL's booklet.
---
The house today
In 1999 GL Wheeler sold the Lazy-A to David Ely and Ellen Kambol. Ellen and David have renovated the home, as described on their
Windy Hill Associates
website.
This page
has more photos of the Lazy-A house and interesting information about its history, the benefits of its design, and the wildlife that David and Ellen see!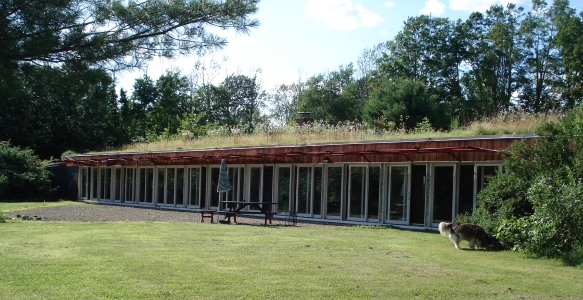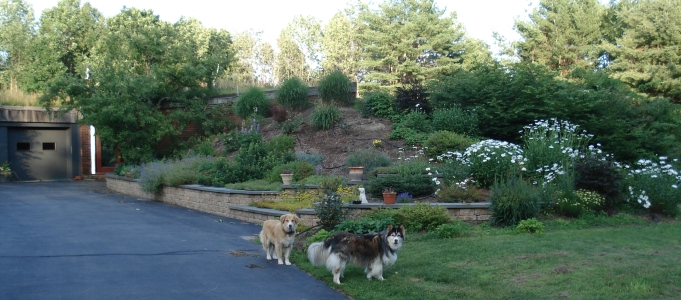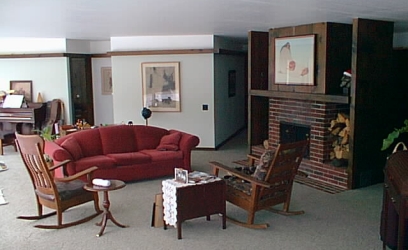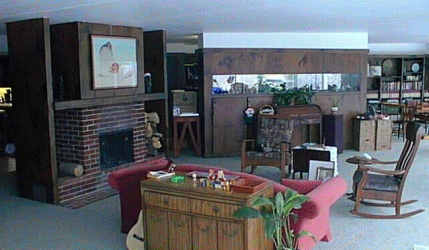 Ellen and David conclude:
Underground homes are easy to heat, easy to cool, feel sheltered, quiet, strengthen the connection with outdoors and tread lightly on the Earth.
We thank David and Ellen for the color photos of their extraordinary house!