New Boston Historical Society
New Boston, New Hampshire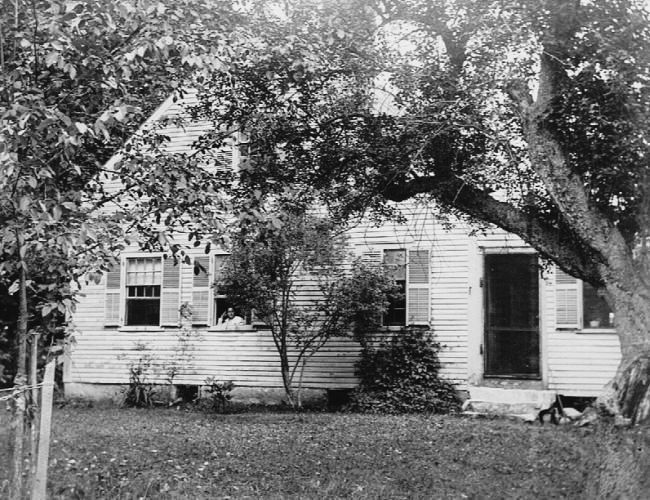 1826 Fairbanks house on Meetinghouse Hill Road
Old Homes of New Boston: the Fairbanks House
Built in 1826, the Fairbanks house is not the oldest house in New Boston. Its unique feature is that around 1899 someone in the Fairbanks family created a photo album which included some interior views of the house. It is rare for us to see 19th-century photographs showing people inside their New Boston homes. Most family pictures were taken outside where the light was better. We also have a floor plan drawn after 1900 with the help of a Fairbanks who remembered what the house looked like in the late 1800s.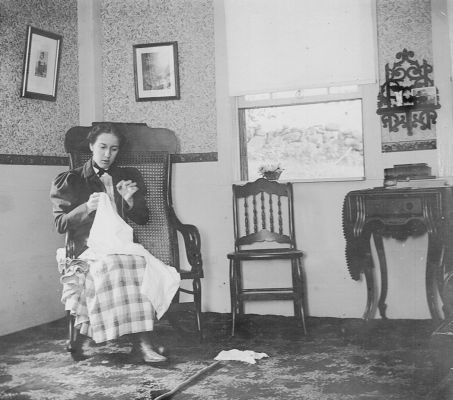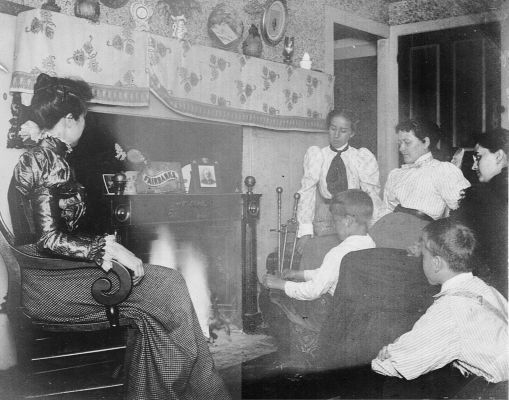 The album doesn't identify anyone in the photographs.
Who made the photo album? We don't know. The album was donated to the Historical Society in 1991 by Richard French of Branford, Connecticut, a retired Yale professor and musicologist. Dr. French believed that his mother purchased the album at a New Hampshire auction sometime before the 1960s.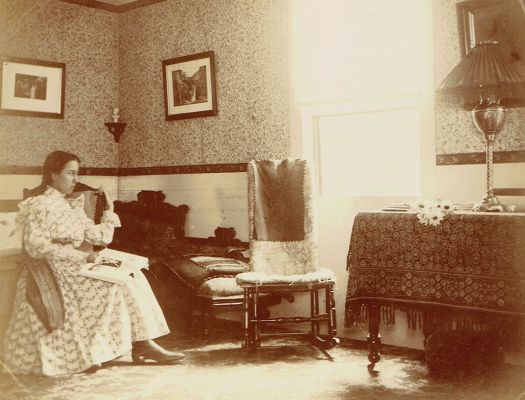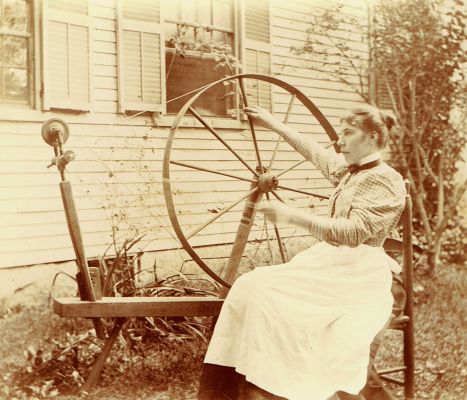 Dear reader, please label your family photos!
The Fairbanks house was built by Joel Fairbanks in 1826. After Joel died in 1862, the house was owned by Joel's son Lorenzo Sayles Fairbanks.
Lorenzo wrote a "Genealogy of the Fairbanks Family in America, 1633-1897" (published 1897). In this genealogy, we learn that his father
Joel Fairbanks
was born in Dedham, MA in 1797 and that he moved to New Boston in 1825.
"He was a cabinet maker; learned his trade under the old system of apprenticeship, and became a very skillful workman. In middle life he engaged somewhat extensively in the manufacture of wooden clock cases and fancy boxes, in connection with his regular trade."
Joel and his first wife Abigail had seven sons. Lorenzo, the second son, wrote this of his younger brother
Ferdinand Fairbanks
, born in this New Boston house in 1830:
"Was a genius of remarkable skill. Went to California, and afterward to Peru, S. A., where he lived many years. Was engaged there in installing sugar mill plants, being agent of a Boston firm... He has not been heard from since about the year 1870, and is supposed to be dead. Was reported murdered; and again there was a report that he died in a hospital. Neither report has been confirmed. He was known to have considerable money, and may have been the victim of foul play. What became of him or his money, is an unsolved mystery.

"He was a man of superior physique; weight 180 lbs., height 5 ft. 11 1/2 in., athletic, brave and fearless, even to a fault. He was very daring, and often met mounted bands of Spanish robbers on the plains, sometimes having encounters with them... He was always peaceably inclined, but had a thorough contempt for the treacherous little Spaniards, and, with a fair show, was a good match for half a dozen of them. Perhaps, at last, he was overcome, robbed and killed."
Lorenzo Sayles Fairbanks
(born in 1825 shortly before his parents moved to New Boston) wrote of himself:
"At a very early age, influenced by a favorable environment, he became ambitious to go to college. The town [of New Boston] had always taken a great interest in the cause of education. No less than six of his schoolmates in the old red school house on the hill, were destined for college. Home influences were good, but his parents had never dreamed of giving any of their sons a liberal education. They thought that good trades would be their best equipment for the battle of life.

"His father, with a large family to support, could not be expected to offer encouragement, in the way of promising assistance. The son, trained from childhood to habits of industry and self reliance, preferred to fight his own way, and did, till he reached the goal of his ambition. He was graduated from Dartmouth College, in the class of 1852, having paid all his expenses from the beginning of his preparatory course."
Lorenzo became a lawyer, and practiced in Philadelphia, New York City and Boston.
Note:
It is possible that the "old red schoolhouse" to which Lorenzo refers was later moved and is now the garage next to the Fairbanks house!
In 1856 Lorenzo married Mrs. Sarah Elisabeth Skelton, the granddaughter of a Minuteman who had "responded to the Lexington Alarm" which started the Revolutionary War in 1775. Lorenzo and Sarah spent their summers in their New Boston house.
Lorenzo and Sarah had three daughters, the youngest of whom was "Clara Elisabeth, born in New Boston, N. H., on the old homestead, Sept. 10, 1864." After
Clara Fairbanks
married Alfred Tilton, they lived in this house which her grandfather had built. Alfred, who raised fancy pigeons for a hobby, died in 1915. After Clara died in 1944, the Fairbanks house was owned by Frederick and Edith Giesel, then Dean and Polly Yost, and now Sam and Wendy Perron.
The second daughter of Lorenzo and Sarah,
Alice Heath Fairbanks
, was born in Philadelphia in 1861 but later shared her memories of the New Boston house with whoever drew the floor plan below. By 1899, Alice was married to Willard Dow and had three children: Alice Rebecca (b. 1881), Alva Morrison (b. 1883), and Clarence Willard (b. 1887). We mention this because it is possible that these children visited their Aunt Clara in the "old homestead" in New Boston and appear in the photographs above. This is just a guess - the photographs are not dated or labeled.
Lorenzo died in Boston in 1895. His wife Sarah died in Boston in 1894.
---
Floor plan of the Fairbanks House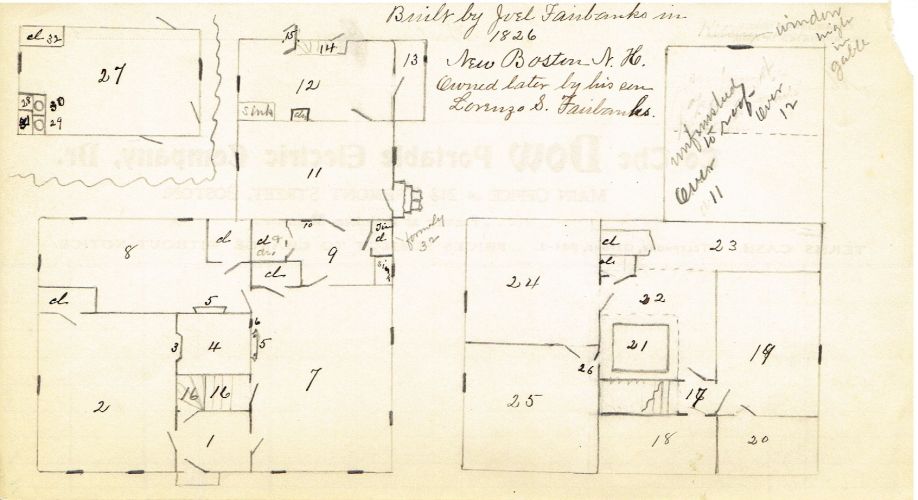 The floor plan was tucked in the photo album when Professor French's mother acquired it. It is drawn on stationery marked "The Dow Portable Electric Company" which is the name of the company owned by Alice Heath Fairbanks Dow's husband Willard Dow. The stationery has a place for a date: "19__" indicating that it was printed after 1899. The floor plan shows the ground floor of the cape-style house on the left and the upstairs on the right.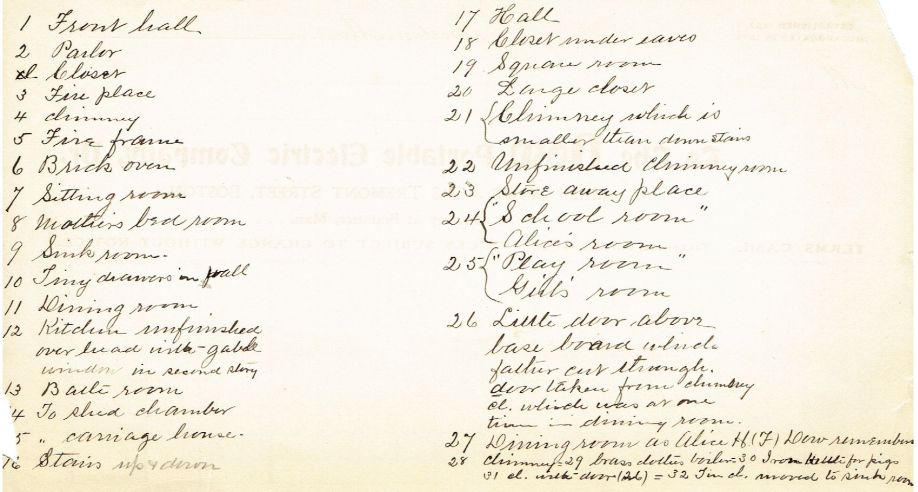 Room #27 is the
"Dining room as Alice H. F. Dow remembers"
including a
"brass clothes boiler"
and an
"Iron kettle for pigs"
. Some of these features were moved to the Sink room (#9) leaving the Dining room when the plan was drawn (#11) less cluttered and less steamy.
Note:
a "clothes boiler" was used before mechanical washing machines became popular; the one Alice remembered was more likely copper than brass. The "iron kettle" might have been used to render pig fat into lard.
The two upstairs bedrooms are #24 (
"School room" Alice's room
) and #25 (
"Play room" Girls' room
). Downstairs is #8
"Mother's bed room"
.

The Fairbanks house on the upper part of Meetinghouse Hill Road is now owned by Sam and Wendy Perron. We thank the Perrons for allowing us to share their home's history.
---
This is the first in a series of of pages which will feature historic New Boston houses. We welcome your suggestions for houses that meet these three criteria: an interesting history, good photographs, and permission of the owner (if the house is still standing!) —
Dan Rothman
townfarm@comcast.net