New Boston Historical Society
New Boston, New Hampshire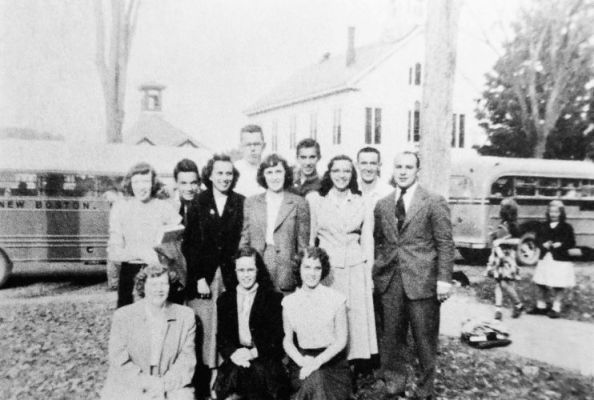 Photo from New Boston High School yearbook, Class of 1951

Memories of New Boston

Over the years, quite a few of New Boston's "old timers" have been willing to share their memories of this town from many years ago. The Historical Society would like to make more of these stories available on this website as we figure out how to transcribe old tapes or type up scraps of handwritten notes.

Please find below links to some memories of New Boston, and a request for you to send us your memories, too.

1895 Robert O. Fuller's memories
A unique account of New Boston in the first half of the 19th century (specifically 1836-1843) was written by Robert Oliver Fuller in 1895. His handwritten account was transcribed by his great-granddaughter Beverly Fuller Dunlap Rodrigues. Robert's memories of a boy's life in New Boston include farm chores and school, what he ate, how he dressed, and much more. Click here to read a PDF transcript of Robert's account.

1911 William V. Fiske's diary
Bill Fiske was an engineer working for the Boston & Maine Railroad from 1891-c.1931. He kept a detailed daily diary for every year he worked, logging the trains he drove, repairs he performed ("tightened up bolt in frame"), and personal notes. These excerpts from his 1911 diary focus on Bill Fiske's daily life in New Boston, NH: family activity, gardening, visiting friends, weather, etc. Click here to read a PDF transcript of Bill's diary.

1986 Marian Trow's memories
In 1986, Marian Clark Trow Wilkins typed up her memories of New Boston. Born here c.1895, Marian lived in New Boston until about 1930. Click here to read a PDF transcript of her notes. Ninety-one years old in 1986, Marian remembered many details of New Boston life.

1996 Fred Moss's memories
In 1996, Fred Moss spoke to the Historical Society about his years on the School Board in the late 1940s and early 1950s, when a plan to convert the Whipple cement barns into a new school was narrowly defeated. Click here to read a PDF transcript of his notes, written when Fred was 92.

2005 "Charlotte Smith - A Gift to the Town at 96"
In 2005, Marie MacDonald of the New Boston Bulletin interviewed Charlotte Fiske Smith for her "Meet Your Neighbor" column. Charlotte (1909-2007) was the youngest child of William V. Fiske, who kept the 1911 diary described above. Click here to read a PDF copy of Marie's column, in which Charlotte remembers 96 years of living in New Boston.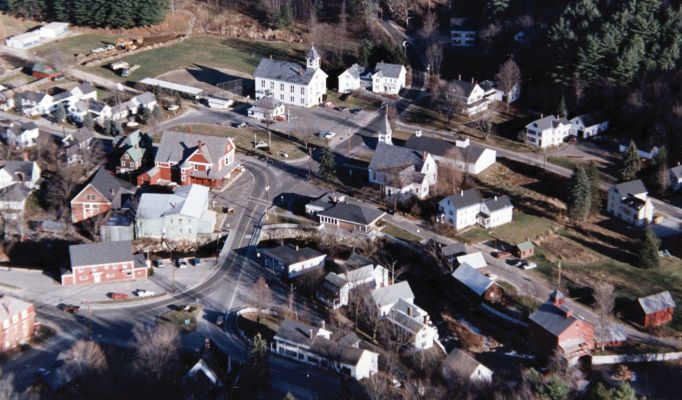 2009 Village Tour
In 2008 and 2009, Herbert "Bib" Elliott led a historic tour of New Boston village. Click here to read a PDF transcript of the 2009 tour. Bib talked about churches, farming, an ice house, the Tavern, the old red mill, the Creamery and some of the village stores.
Aerial photo of New Boston village in the late 1980s by Brandy Mitroff.

2012 Towne Interview
In 2012, we interviewed New Boston's oldest citizen Howard Towne and his wife Frances Byam Towne. Click here to read a PDF transcript of this interview. Howard and Frances talk about the High School, World War II, and many other topics.

2014 Old Timers' Tales
In June 2014, some long-time residents of New Boston shared their memories of New Boston. Our Town Moderator Lee Nyquist led the conversation among our special guests who included Andi Card, Alice Curtis, Jim Dane, Willard Dodge, Verna Elliot, Jerry Kennedy, Clem Lyon Jr., Bob Todd, Frances Towne, Howard Towne and Al Woodbury. Walter Kirsch Jr. and Jan Nixon also shared memories.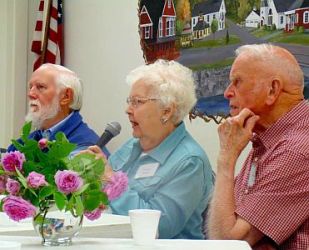 This event was organized by the Historical Society, and we wanted to keep a written record of these stories. We are grateful to Teri Harkins, a court reporter from New Boston, who sat in the front row and recorded this transcript.

Andi Card's photo (left) shows Al Woodbury and Frances & Howard Towne at the Old Timers' Tales event in the Community Church.

2015 Bea Remembers In January of 2015 Bea (Byam) Peirce shared her memories of New Boston in the 1940s and 1950s: growing up on the Byam farm on River Road, going to the New Boston High School, and playing on the ballfield next to the Town Hall. Click here to read a PDF transcript of Bea's presentation.
2015 Nana Kane's House In May of 2015, Olivia Gunnell wrote about her memories of visiting her great-grandmother Claudine Kane's house on Meetinghouse Hill Road. Click here to read an excerpt from Olivia's blog post, "Three Places From My Childhood."

2016 The Grants of Gougeville In May of 2016 Ruth (Grant) Bynum shared her memories of growing up in New Boston from 1937-1950 on her family's Lyndeborough Road farm. Ruth, who now lives in Oregon, visited the Historical Society with her daughter and granddaughters. We thank her for her stories and photographs! Click here to read Ruth's account.

2016 Hundred Acres Monastery In October of 2016 Kary Jencks and Noel Sagna welcomed visitors to their 18th-century house on Scobie Road, the former Hundred Acres Monastery. The Historical Society recorded memories of some former residents and visitors. Click here to read a transcript.

2017 Dane Interview
In 2017, we interviewed Jim Dane, who has lived in New Boston for all of his 90 years. Click here to read a PDF transcript of this interview. Jim talks about apple picking, World War II, maple syrup, and many other topics.


Note: The downloadable files linked to this page are stored as PDF files which can be viewed with Adobe Reader or equivalent tools. If you cannot open the files because you do not have Adobe Reader installed on your PC, it's downloadable (free) at get.adobe.com/reader/.


Dear Reader,
If you (or your parents or grandparents) have stories of life in New Boston more than 20 or 30 years ago, please write them down and share them with the Historical Society before they're forgotten. We have a few old videotapes and audiocassettes of Oral History in our files, and these are wonderful, but we think that written records (text documents which people can scan quickly or search) will be most helpful for future generations. Don't worry about grammar or spelling, and be as brief or long-winded as you like. Please consider sharing your memories with us!

Click here to read a PDF with some questions to think about if you want to write down your recollections or interview a parent or neighbor. These are just suggested topics - the conversation can be very informal!

Please e-mail your stories or inquiries to the web editor, Dan Rothman: townfarm@comcast.net