New Boston Historical Society
New Boston, New Hampshire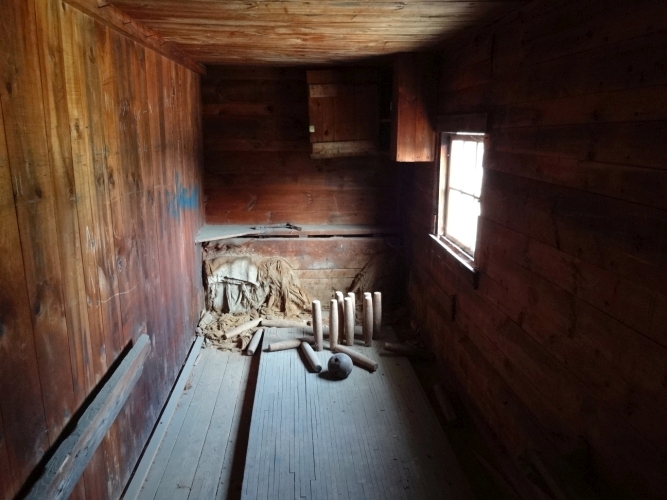 Prospect Cottage candlepin bowling alley
Candlepin Bowling in New Boston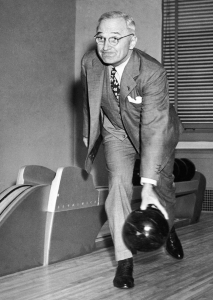 In our article about the
summer boarding houses
which were popular in New Boston c.1890-1920's, we described the various amenities which the proprietors offered their guests. There were tennis courts, croquet grounds, and even a couple of bowling alleys. Bowling in New Boston meant "candlepin bowling", of course.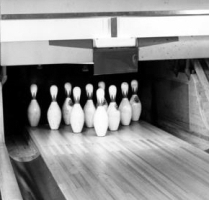 Elsewhere in the U.S., bowling is a game played with oversized bowling balls and pear-shaped bowling pins that are hard to miss. President Harry S. Truman had a typical "big ball" bowling alley installed in the basement of the White House, as seen in the photos
(left & right)
. Truman didn't much like bowling, but it was a birthday gift and he was too polite to say "no".
President Truman might have enjoyed bowling more if he tried
candlepin bowling
, which was (and is) popular only in New England and nearby Canada.
Candlepin bowling was invented in Worcester, Massachusetts around 1890. The candlepins are slender and shaped somewhat like a candle. The bowling bowls are small, three to five inches in diameter, and typically don't have holes drilled for the bowler's fingers.
New Boston Argus September 16, 1893 — "A bowling contest took place at Highland farm recently between six ladies and six gentlemen, in which four prizes were offered, two to each sex. Gents' first prize, moustache cup and saucer, was won by Richard Smart. Ladies' first prize, a bottle of cologne, was awarded Mrs. C. E. Chapman; the second, a bottle of catsup, was captured by Miss Belle Lavers."
Recently we visited New Boston's last bowling alley. It was hidden for many years in the hayloft of Atwood's barn. Mrs. S.D. Atwood was the proprietor of Prospect Cottage, a summer boarding house at the top of High Street, at the junction of the Francestown and Weare Roads. Today the house is the office of New Boston Dental Care, and Dr. Ron Brenner invited us to climb up a long ladder to see the Prospect Cottage bowling alley.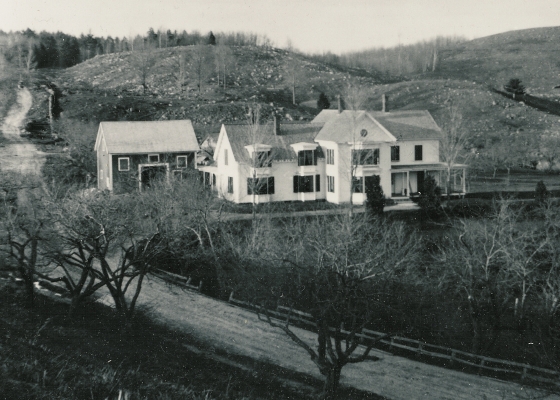 Prospect Cottage originally had a fairly small barn, to the left of the house in this 1891 photo.




This was replaced by the larger barn we see today.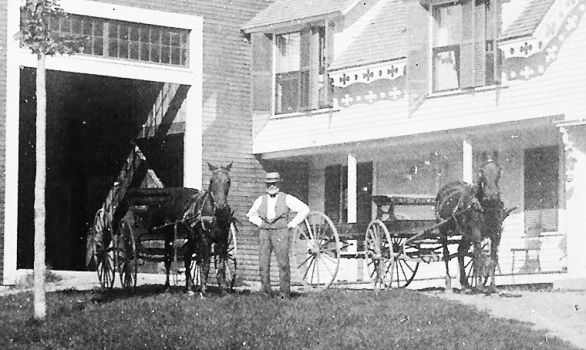 Solomon D. Atwood stands in front of his new barn.
The bowling alley was built in the hayloft in the upper right of the barn.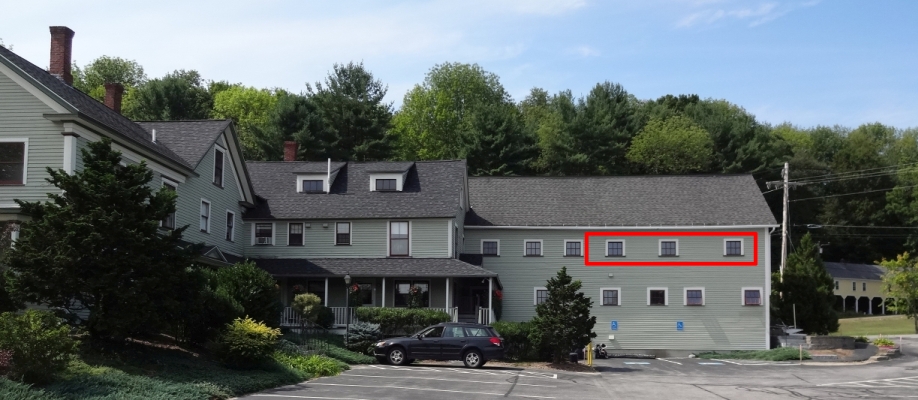 The windows of the bowling alley are outlined in red.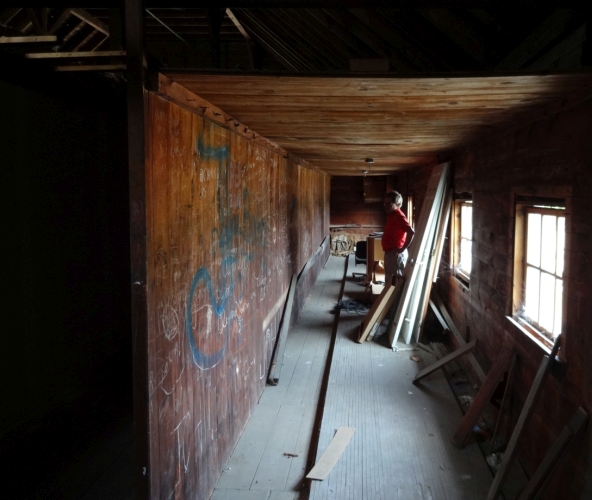 Imagine this bowling alley without Dr. Brenner and modern renovation materials.
It must have been warm in the hayloft in the summertime.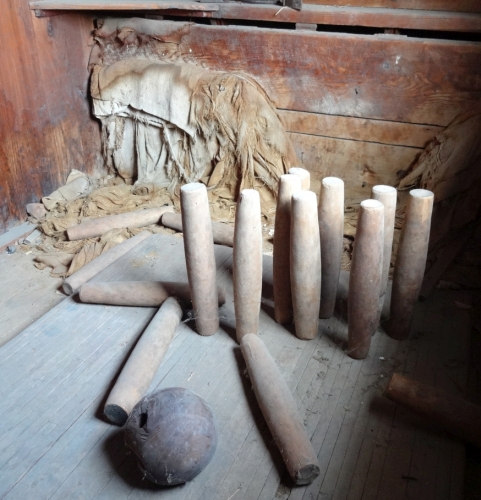 Old grain sacks were used as a bumper. Why does this old ball have finger holes?



The bowling lane had to be level and flat - it couldn't vary more than the thickness of a dime.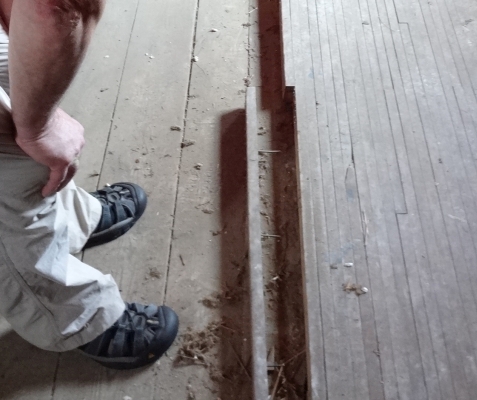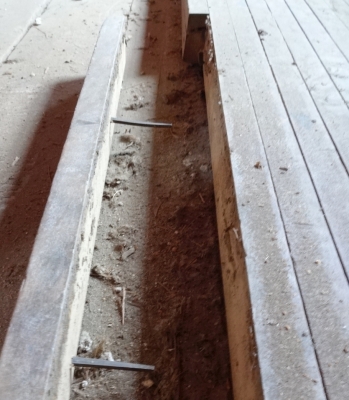 The lane was made of thin strips of maple nailed together with square nails.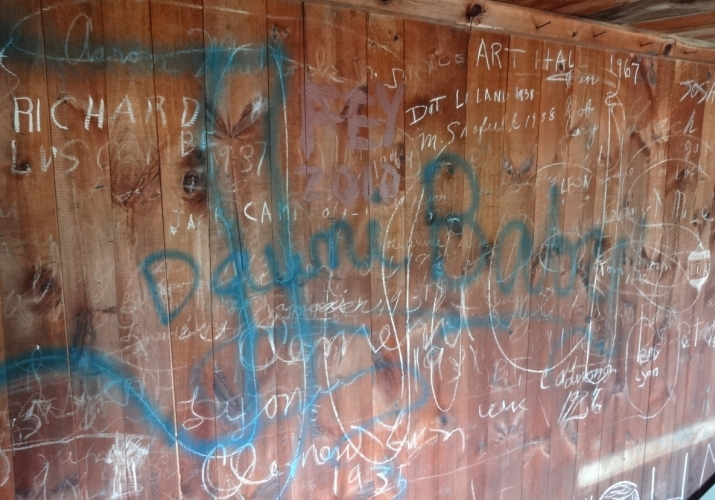 Some bowlers scribbled their names on the wall. Dates range from 1926-1967.
We noticed a familiar name on the board so we e-mailed Clement Lyon, Jr. to see what he remembered. His wife Ruth replied:
Yes, Clem and his sister, Josephine, often bowled there when the Atwood sisters, Ann and Flo, lived there, particularly when nieces and nephews would visit. Our children had a chance to use it in 1960 when the family had an auction, after the sisters had died. The alley was built by the Atwood family for their boarders for recreation. Clem thinks the barn was built around 1870. Clem's family moved to New Boston in 1923. His father was headmaster [of New Boston High School] and Clem was born that year.
Does anyone else remember bowling in New Boston? Please e-mail any memories to the web editor, Dan Rothman:
townfarm@comcast.net