New Boston Historical Society
New Boston, New Hampshire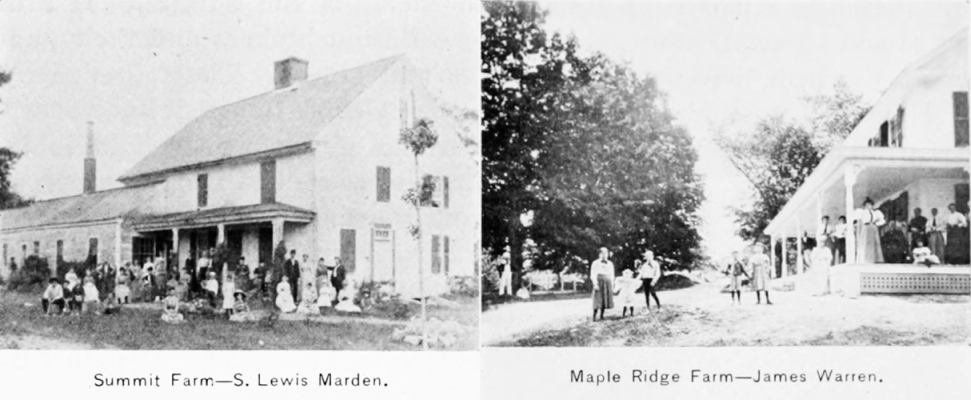 "No Vacancy" at these boarding houses in 1897
New Boston's Summer Boarding Houses
In the late 1800s, during the hottest months of summer it was fashionable for the gentlefolk of Boston, Massachusetts to go to hotels and boarding houses in southern New Hampshire, where there were shade trees and cooling breezes. (Would
you
like to live in Boston in July and August without air conditioning, wearing your Victorian-era finery?)
New Boston had only one hotel,
The Tavern
, so most summer guests stayed in boarding houses. Boarding houses began as farmhouses which had a spare bedroom or two. Sometimes these "spare" bedrooms were made available by relocating the farmer's children to less comfortable sleeping quarters for the summer months. Once the farmers realized how profitable this business could be, they began to add on to their houses. The enterprising Mr. and Mrs. George Prince of South Hill Road even built an extra house across the street to accommodate their guests.
By 1890, New Boston's year-round population of 1,000 grew by 25% in the summertime. Visitors took the train from Boston to Manchester to Parker's Station in Goffstown, where they were met by the stagecoach from New Boston. In 1893 a new railroad connected New Boston to Goffstown, Manchester and points beyond.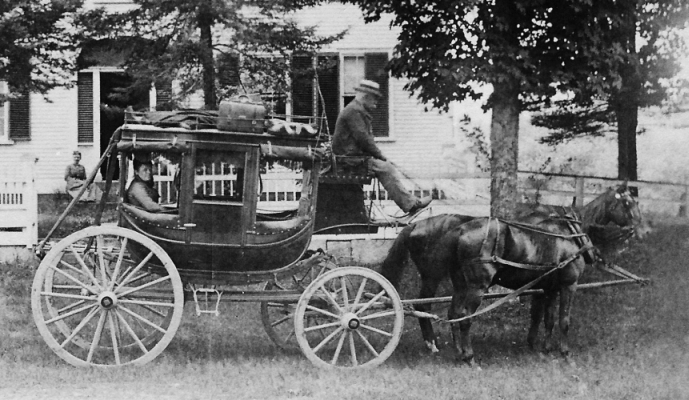 New Boston's last stagecoach driver was Charles Horace Chandler. His great-granddaughter still lives in town.
Summit Farm
was a typical New Boston boarding house. Owned by S. Lewis Marden, this house on Clark Hill Road had room for 35 guests. Summit Farm House had a small printed brochure in lieu of a website.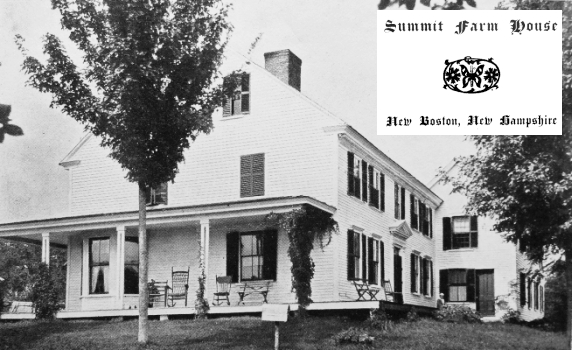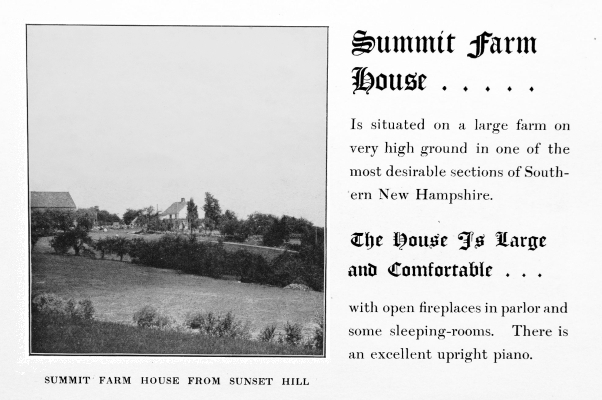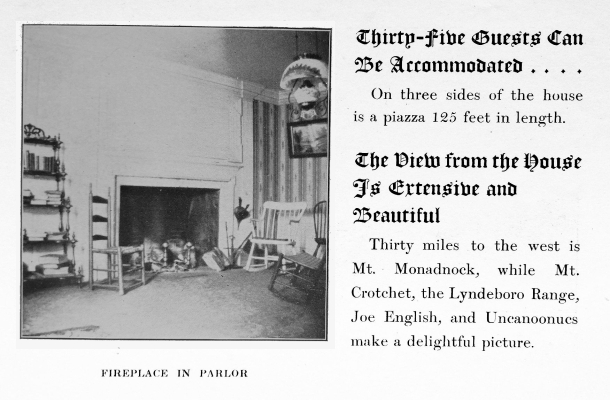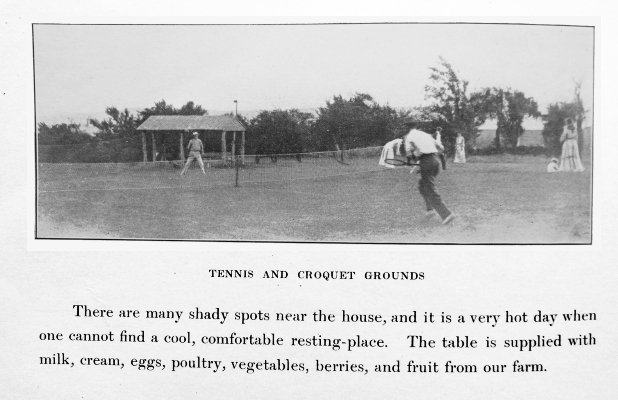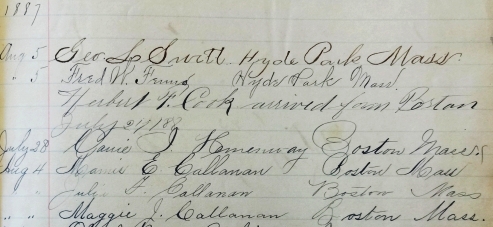 This 1887 ledger lists visitors from Boston. Guests paid $1.00 per day.
---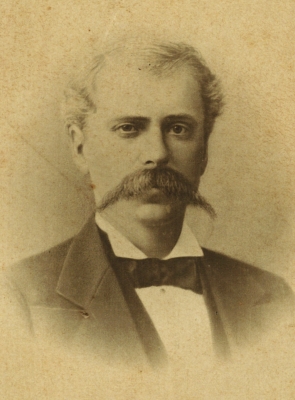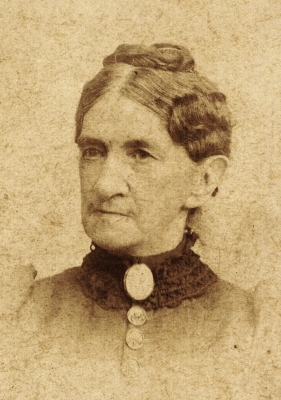 The Battens of "Highland Farm": Richard, Procinda and Martha.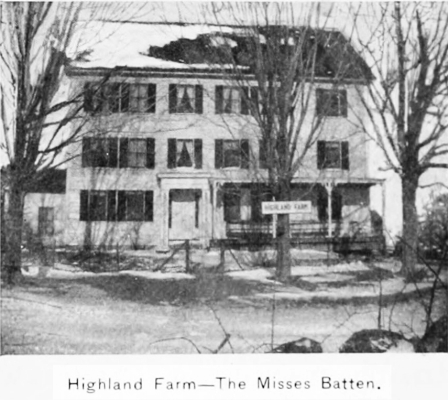 Lewis Marden's wife Hattie Batten Marden had a brother Richard Batten, who was a Civil War veteran. Richard began his summer boarding business
"Highland Farm"
in 1892 in the house next to the Mardens, and soon added a third floor. Then he died.
His two unmarried sisters Procinda and Martha (the Misses Batten) carried on Highland Farm after Richard Batten's death. Their 50 boarders could take their meals in the "Large, cool dining room; meals served punctually" or at Lewis and Hattie Marden's Summit Farm next door.
The
Tourists' Guide to the State of New Hampshire
(1902) describes Highland Farm as follows:
Located amid delightful mountain scenery. Large maples afford grateful shade on the lawn. The air is pure and healthy, the water clear and cold. Rooms large and airy. Lovely Haunted Lake is much frequented, supplied with boats, pavilion, and bowling alley. Vegetables, fruits, etc. on our own farm. Telegraph and telephone connections.
The Highland Farmhouse was taken down around 1920.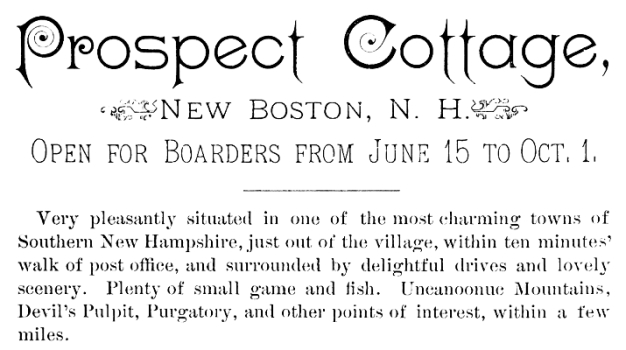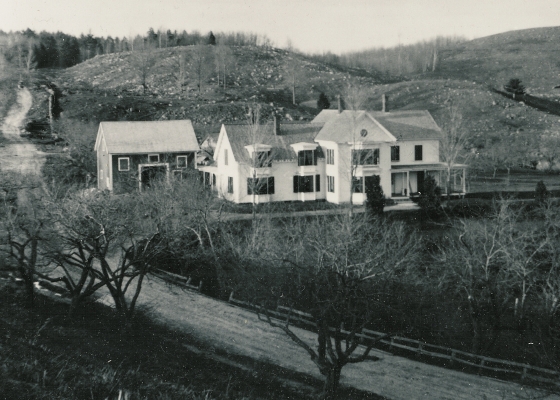 Prospect Cottage is now New Boston Dental Care. There's still a bowling alley in the attic.
"Prospect Cottage"
was owned by Mrs. S. D. Atwood, the wife of Solomon Atwood who ran the general store. Her 14 guests paid a higher rate ($1.25/day) due to the Cottage's proximity to J.R. Whipple's farm and the Lower Village with its shops, churches, library and other conveniences.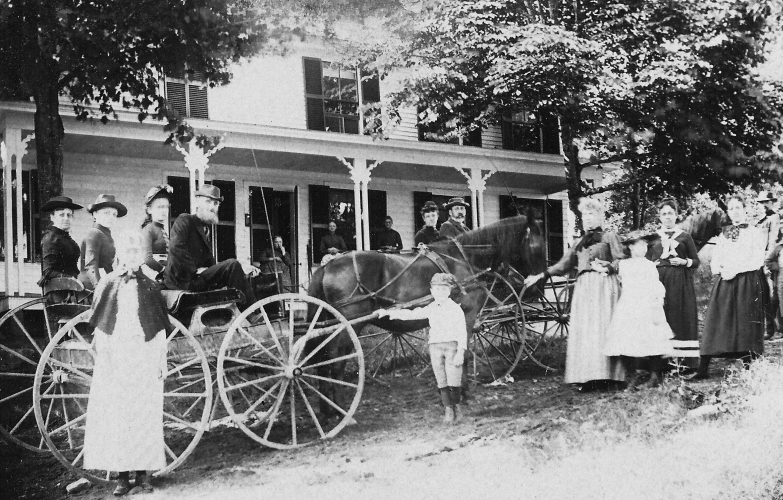 Miss Marcy Dale welcomed to "The Greenwood" up to 25 guests, by the week only.
Elliott Cogswell wrote his famous History of New Boston (1864) in this house,
which still stands at the corner of Meetinghouse Hill and Cemetery Road.
Other summer boarding houses and their proprietors included:
"Grey Stone Cottage,"
Mrs. Edward Hill. Mont Vernon Road. The Cottage was also the studio of White Mountains landscape artist Edward Hill.
"Hillside Farm,"
George A. Prince, 25 guests. South Hill.
"Maple Hill Farm House,"
C. F. Dodge, 10 guests. Tucker Mill Road.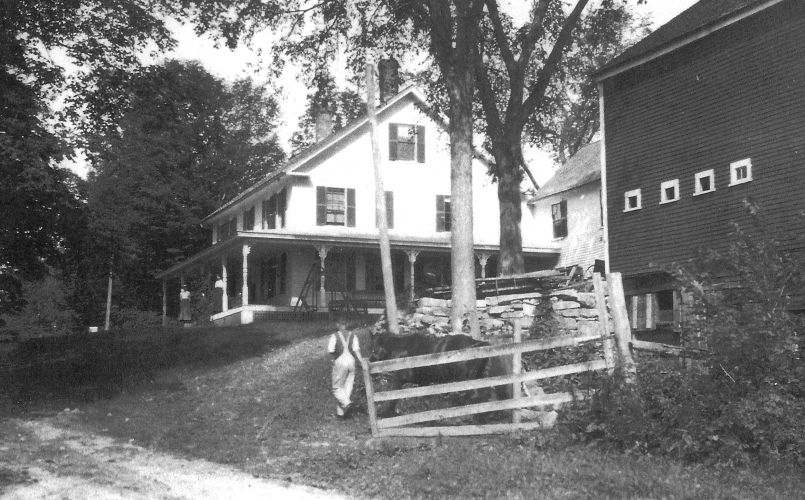 Two summer boarders in white blouses and ankle-length skirts watch a young man leading his horse.
All that remains of Maple Ridge Farm House is a cellar hole on Bedford Road between Wilson Hill Road and Baker Lane. (Paula LeBaron photo)
"Maple Ridge Farm House,"
James Warren, 25 guests. Bedford Road near Wilson Hill. This house had indoor plumbing!
"Colburn Farm,"
Chas. S. Colburn, 15 guests. Colburn Road near Francestown Road. 9 to 10 dollars per week. "The object of the management is to provide a restful, homelike atmosphere for those desiring rest and relaxation. The right is reserved to send away children proving troublesome or annoying to the guests."
"Old Homestead,"
C. D. Todd, 15 guests. Pine Road.
"Wilson Hill Farm,"
Almus Warren, 10 guests. Wilson Hill Road. Only 75 cents per day!
"Apple Hill Farm",
Harry H. Simons: house, tents and bungalows. Simons Farm Road near Riverdale Road. 12 to 15 dollars per week. "The scenery is unsurpassed, and there is no noise, dust or mosquitoes." Click
here
for a scan of the brochure, c.1921.
These were some of the larger boarding houses in New Boston.
We don't know how many other farmers made a few extra dollars by renting out a room or two. When we toured the
Baker Homestead
, Dick and Betsy Moody pointed out two rooms in their farmhouse that had been used for summer visitors.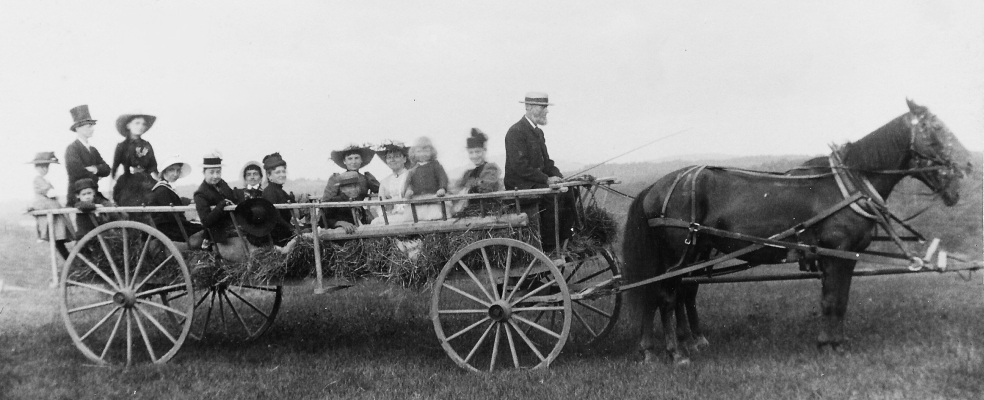 Entertainment included wagon rides, picnic excursions, lawn parties and band concerts.
---
End of an era:
New Boston's summer boarding houses began to close during the Great Depression. Prosperity returned to the United States after World War II, but by then the automobile enabled Americans to travel farther from home.
Most of Summit Farm House was taken down and its timbers were reassembled somewhere on Cape Cod.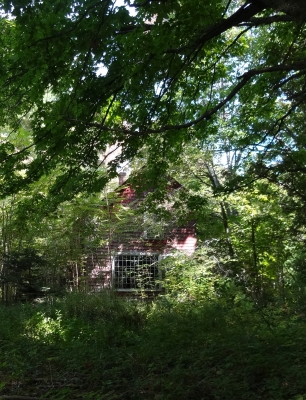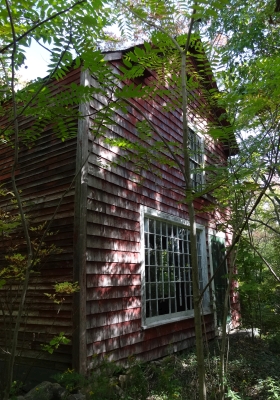 An abandoned ell is all that remains of Summit Farm House. Today its only summer boarders are of the four-footed variety.