New Boston Historical Society
New Boston, New Hampshire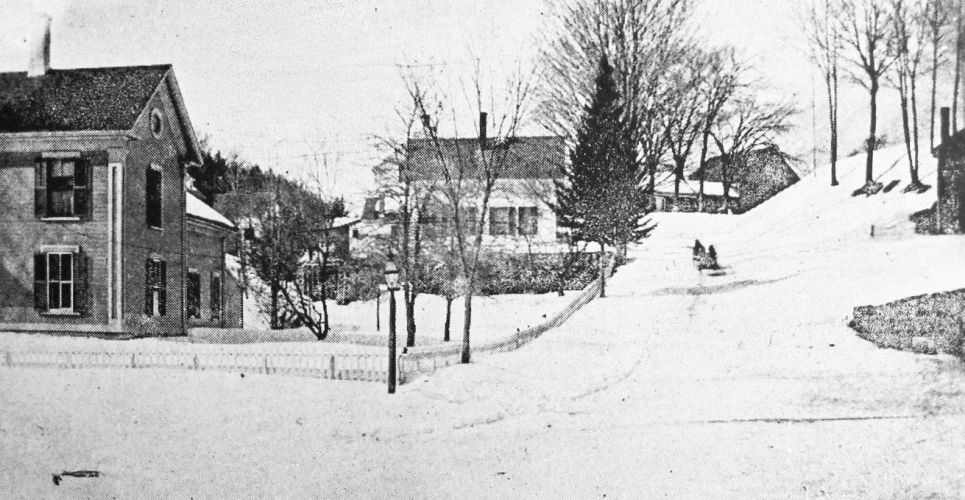 Snow sledding down Clark Hill Road

Winter Sledding in New Boston

The photograph at the top of this page shows two sledders speeding down Clark Hill Road into the center of town. The handsome house to the left was taken down by Roger Babson and a blacksmith's shop was moved there to become Heidi Palmer's real estate office, now shared by an accountant and a holistic veterinarian.
The photo is from one page of a tiny 32-page booklet printed in the 1890s that advertised
The Tavern
, a hotel which once stood where the former TD Bank building stands today. The Tavern booklet describes our sledding photo: "Winter view of Brier Hill, directly in front of the Hotel. Guests of the Tavern enjoy coasting on this hill." (Nowadays we spell Briar Hill with an 'a'.)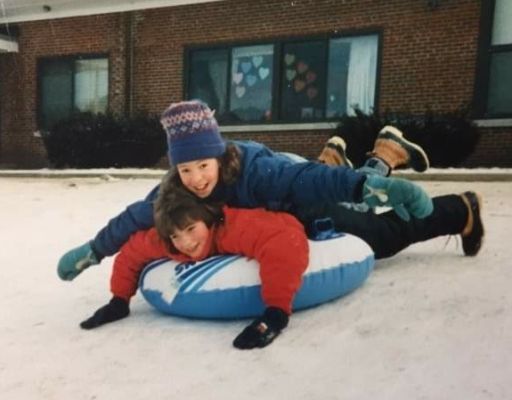 Jane Ruggles and Liza McDonald sled in front of the Central School c.1980 — courtesy of Jane Byam
The people of New Boston have enjoyed sledding for as long as anyone can remember. In recent memory, favorite sledding spots included: Cemetery Road down Meetinghouse Hill Road, Joe English Road down to Meadow Road, Cochran Hill Road, and McCurdy Road before it was relocated to be less steep. Automobile traffic was less busy in the 1950-1960s and drivers may have been more observant before texting was invented.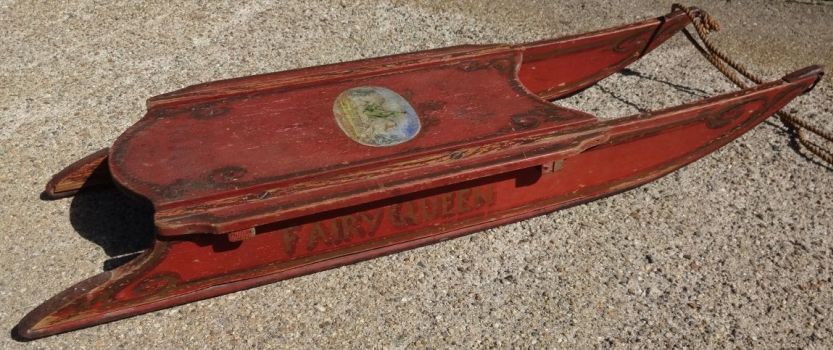 1873 sled which belonged to Harriet Elizabeth Eaton, who lived on the Weare Road
Donated to the Historical Society by the Kennedy family

Sled & Sleigh — for Work and Play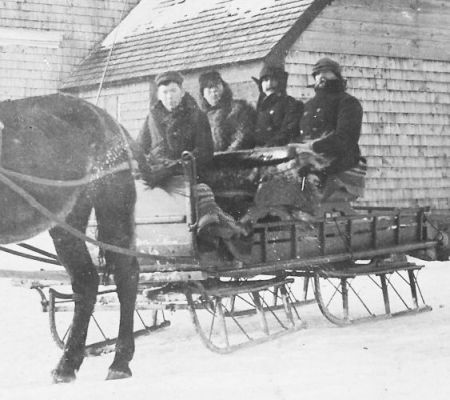 These men wish they had warmer wool blankets or buffalo robes!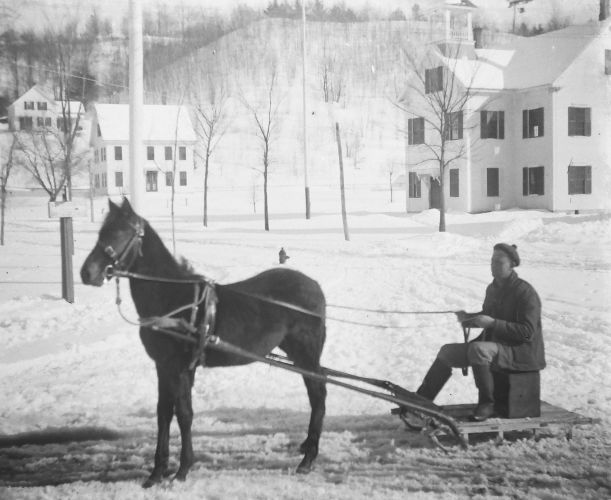 Pony and sled in front of the High School (where the Fire Station is today)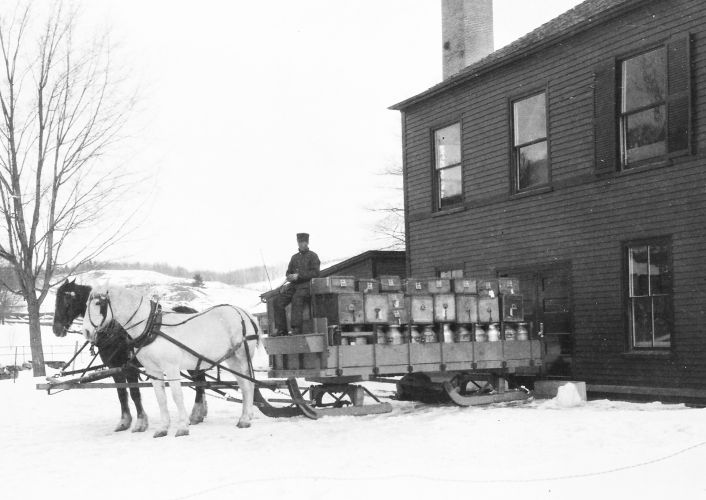 Delivering milk to The Creamery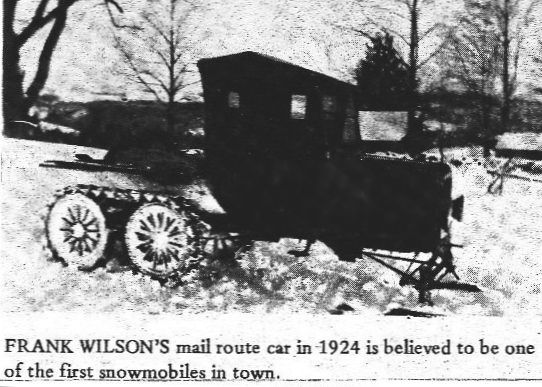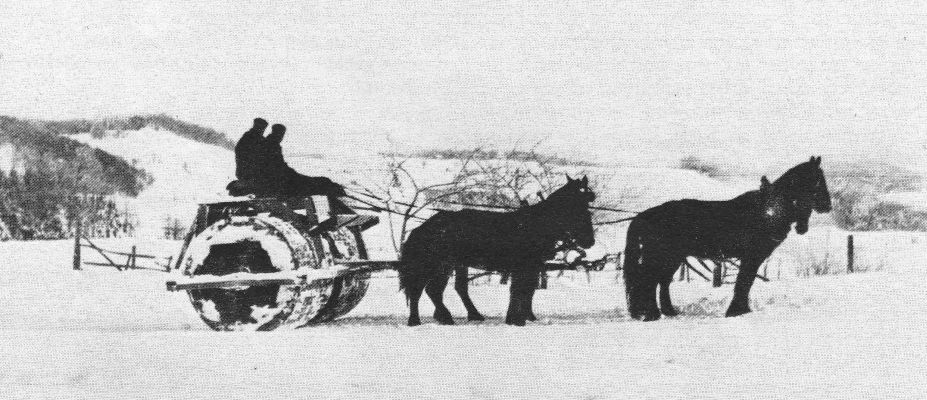 Snow roller in northern Vermont — courtesy of the Glover Historical Society

Until a Fordson tractor with snowplow was purchased in 1928, New Boston's roads were rolled by horse-drawn snow rollers after a heavy snowfall. The wooden roller packed down the snow for sleighs and sleds. We don't have a photo of a New Boston snow roller so I had to borrow one from Vermont, where my wife's grandfather drove a snow roller as late as 1941.
As warmer weather approached, the packed snow became softer. Sometimes a sleigh's runner would sink into the snow and the sleigh would tip over, to the dismay of its occupants.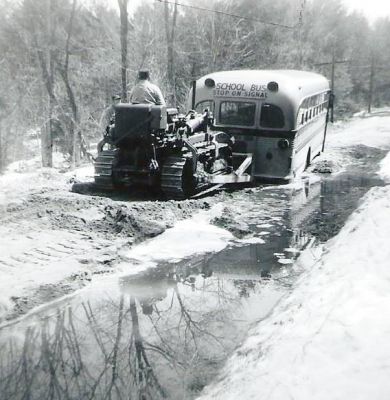 Joe Kennedy pushes a school bus out of the mud

When the last of the snow melted, it was mud season in New Boston, and our town's roads — none of which were paved before 1927 — were almost impassable.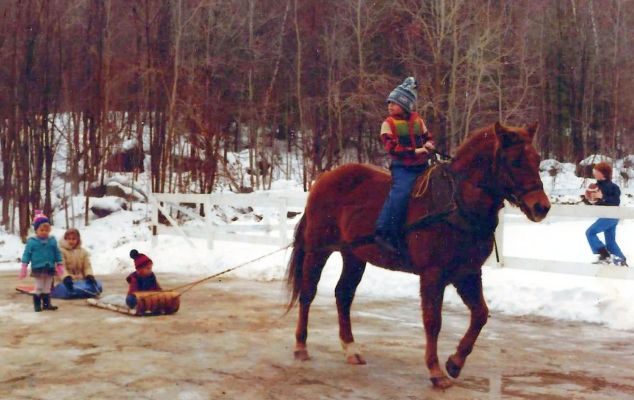 McCurdy Road sledding (1979) with Moody, Flansbury, and Gauthier children and Charlie the Horse — courtesy of Betsy Moody