New Boston Historical Society
New Boston, New Hampshire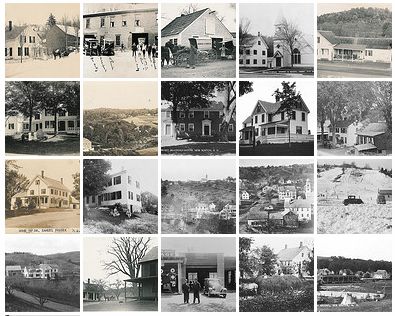 Photos and Videos
How to use Flickr to view some of our collection of historic photos
The Historical Society uses a website called Flickr to share on-line some of our photos and videos.
Flickr calls our entire collection a "Photostream" and stores our photo images in albums called "Sets".
Please note that the NBHS page you are reading now does not contain the actual photos.
This page is intended to help you learn how to use Flickr to view our photos.
If you already know how to use Flickr, you may click
here
or on the picture of a photo album at the top of this page to go directly to the NBHS Flickr page.
Instructions
You may view all of our Sets of photos and videos at
www.flickr.com/photos/newboston
. You will see recent photos and a list of Sets: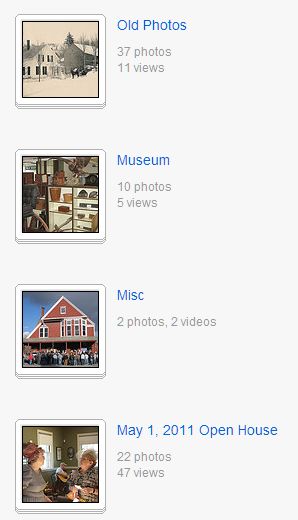 Click on a Set to open it, then click on a photo to make it larger and see information about it.
In the example below, we'll click on the "Old Photos" set to open it.
You may go directly to the "Old Photos" photo set to see some photos of New Boston in the late 1800s and early 1900s by clicking on the picture of the Old Photos set below.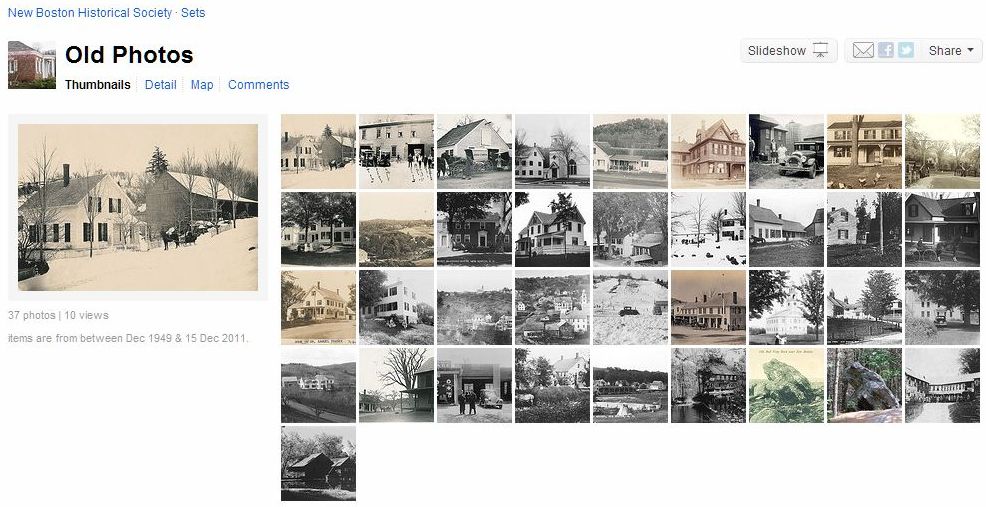 We have identified to Flickr where in New Boston some of the old buildings like houses, mills and schools were located.
Once you have clicked on a photo, you can see its map location (if it's available) by moving your mouse cursor to the small map that is to the right of the photo as in the example below.
You may need to click on the pink dot on the map to see the street-level location.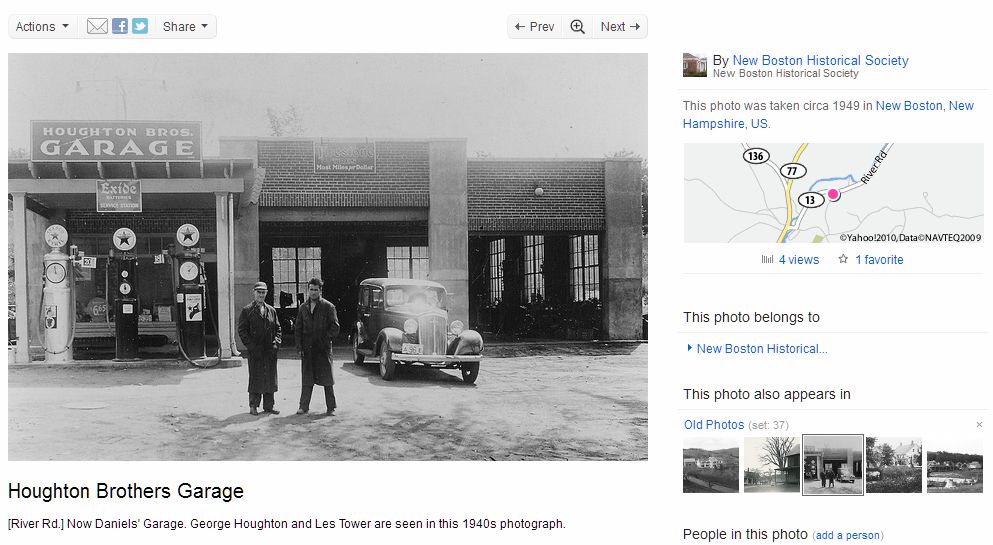 ---
Advanced topic: Photo Map
We created a
photo map
to display some of the old photos in our collection using a map so you can see where the photo was taken.
This is an advanced topic because using the map is not quite as easy as we'd like.
What you see may differ from the pictures below depending on your browser (Firefox, Chrome or Internet Explorer), your display resolution, or changes made by Flickr programmers. But when it works, the Flickr map is a fun way to explore New Boston.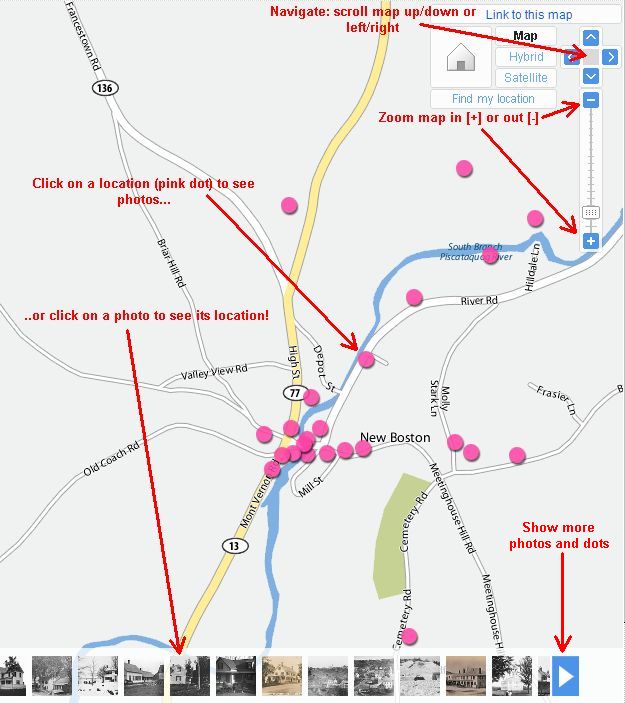 You can click on a
map location
(pink dot) to see the corresponding photos...
...or click on a
photo
to see its location on the map.
Clicking on a photo a second time may enlarge it and display more information about the subject. Use your browser's "go back" button to return to the map or close the new tab or window if one was opened.
Flickr only shows pink dots for the tiny photos or "thumbnails" shown below the map. You'll want to scroll though our entire photo collection by clicking on the white triangles to the left and right of the photo thumbnails to see other pink dots and find photos near you.
ZOOM: Click on [+] to zoom in for more map detail or [-] to zoom out.
NAVIGATE: You may click on up/down/left/right arrows to move the map north/south/east/west or simply "click & drag" the map with a mouse.
Flickr has billions of photos from many people around the world, so you may click on one of the Flickr menu options and see photos of New Boston that are not provided by the Historical Society. If you get lost, simply return to the NBHS website and start again.
To test the photo map, click on the picture of a map above or
www.flickr.com/photos/newboston/map/
which opens the map in a new tab or window.