New Boston Historical Society
New Boston, New Hampshire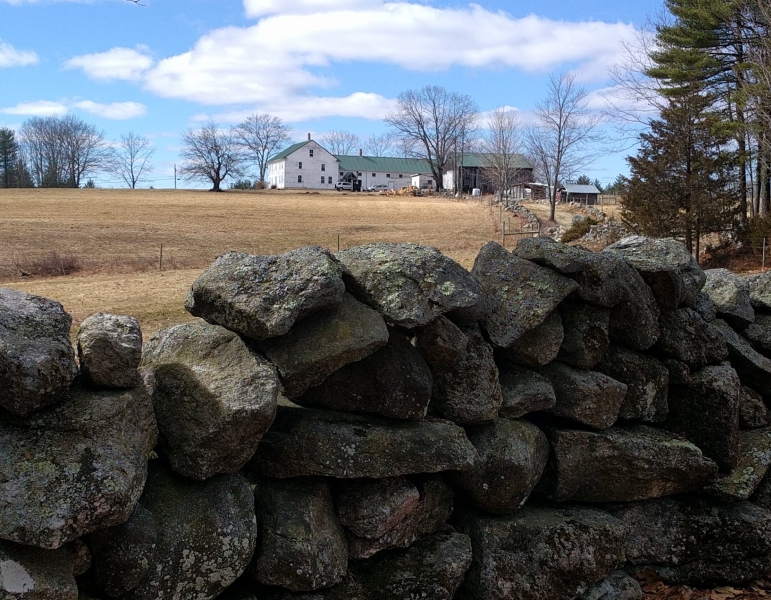 The Warren/Chancey farmhouse on Wilson Hill Road
Wilson Hill Farm
It took us less than ten minutes to drive from the center of New Boston to Wilson Hill Farm. It took Sylvia Chancey twenty-three years to make that same journey.
Sylvia was living in New Boston village when she met Frederick "Bing" Chancey, in 1969 or 1970. She was Sylvia Carter then, and she had a small restaurant called "Carter's Place" in the first house on the Mont Vernon Road. (This is the house that once belonged to Dr. Fraser, facing the anti-gravity monument in Central Square.) Sylvia served breakfast and lunch in a dining room which overlooked Maple Street and the river. Homer Dodge walked from his general store across the bridge to eat at Carter's Place twice a day. Among Sylvia's other customers were Selectmen, road crews, telephone and electric workers, carpenters, and Bing.
After Bing Chancey married Sylvia, he wanted to go out west to buy a big farm, but his friend "Tiny" Dickerman suggested he go instead to Quebec. Bing and Sylvia drove up to Inverness, just south of Québec city, and bought a 150-acre dairy farm. They liked Canada — some of their ten children are Canadian citizens — but over two decades the Québec government became less welcoming to English-speaking people, and the Chanceys decided to return to New Boston.
The Farm on Wilson Hill Road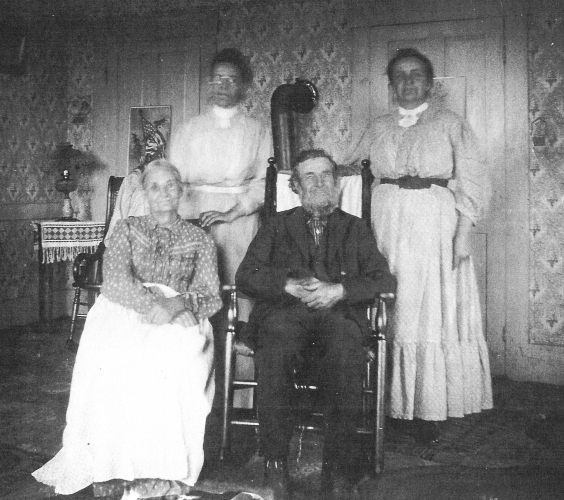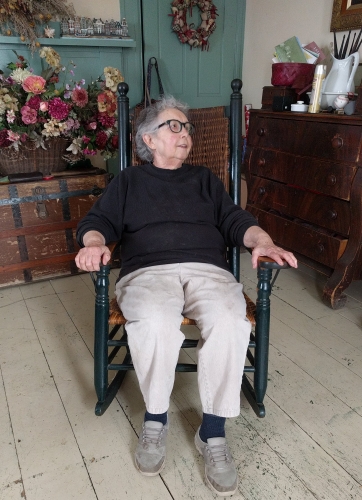 Bing Chancey's great-grandfather Almus Warren (1839-1927) is seated next to his wife Sarah.
Behind them are their daughters Josephine Warren and Mary Warren Whitman.
Almus and Sarah Warren were married for 66 years. They moved to the Wilson Hill Farm in 1869.
Sylvia still has the Warren rocking chair. [Old photo from Paula Bose LeBaron, who is a Warren.]
Wilson Hill Farm was owned by Bing's great-grandfather Almus Warren, and later by his great-aunt Josephine "Josie" Warren. Nellie Warren, Bing's grandmother, was the teacher at Schoolhouse #2 on Bedford Road before she married Frederick S. Chancey. Their only son, Frederick I. Chancey, had eight children, including Frederick W. "Bing" Chancey. These children went to school in the village center, often staying with the Lelands, until their father bought a house in the village.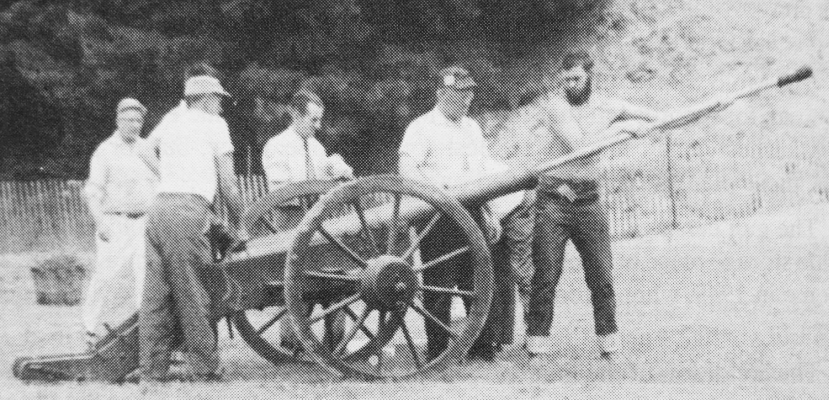 Bing (right) loads the Molly Stark cannon.
Upon their return from Québec, Bing and Sylvia moved into the Warren/Chancey farmhouse, which may date back to 1800 or so, and raised beef cows and chickens on 170 acres. Bing was a member of the New Boston Artillery Company; in fact he was the Captain in 1973-1974.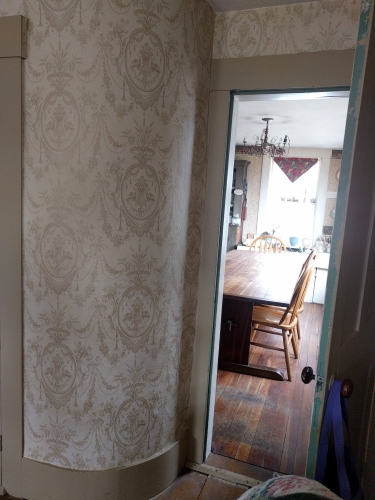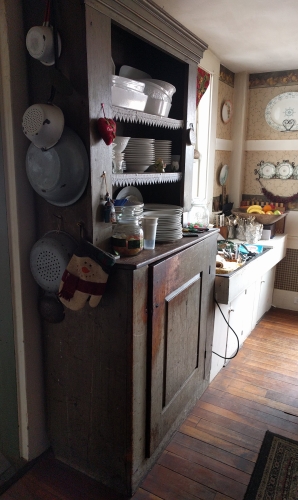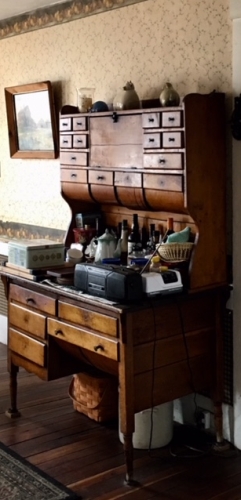 Bing and Sylvia and their children have made extensive renovations to the house.
There is new wallpaper in the room where Almus once sat in his rocking chair.
Bing made the kitchen table in Canada with wood from his own cherry trees.
The "Hoosier"-style cabinet was made by Bing's great-uncle.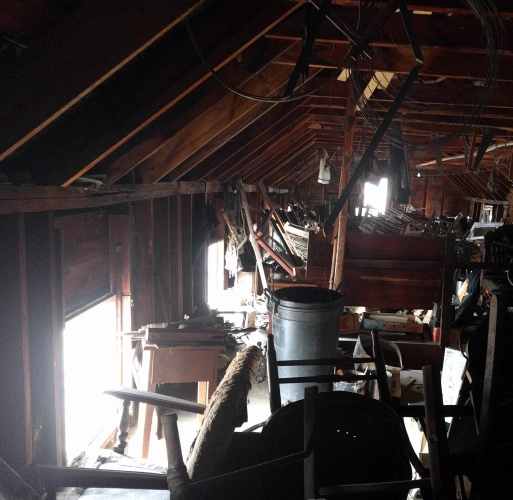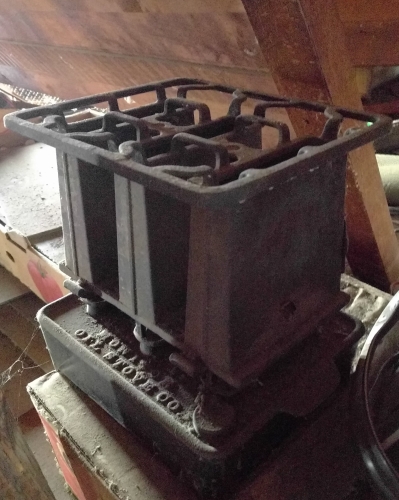 When the Wilson Hill Farm was a summer boarding house, some of the Warren family would sleep upstairs and give their bedrooms to their paying guests. This attic is now filled with treasures, including what appears to be an oil-fired cast iron toaster.
The windows of the sleeping quarters may be seen in the photo below, above the unnamed ladies wearing glamorous hats.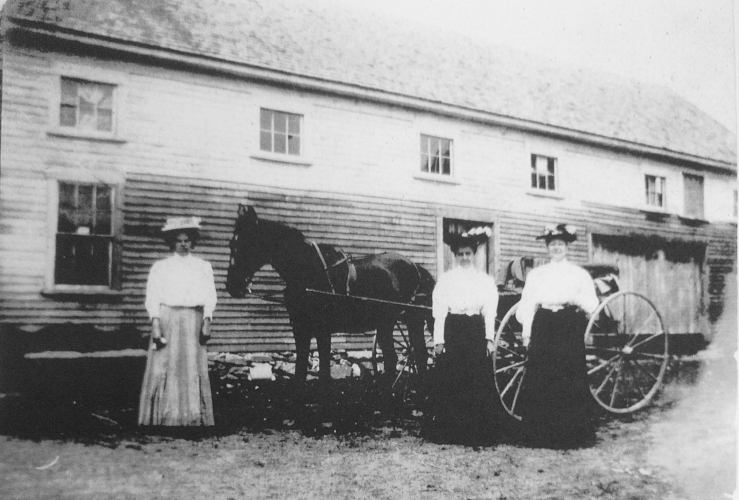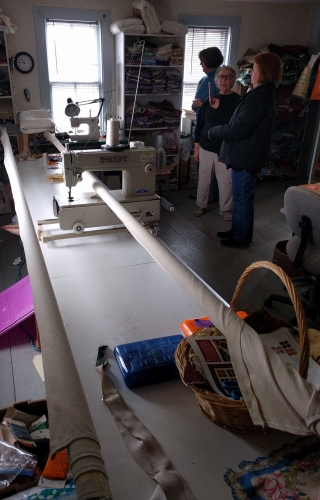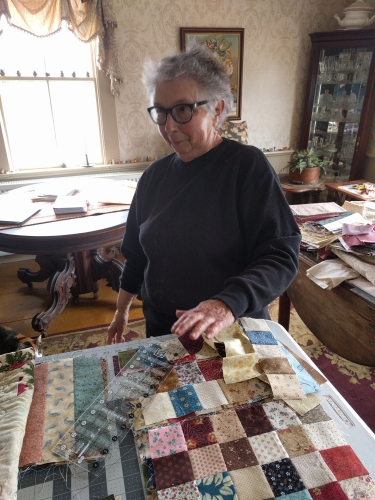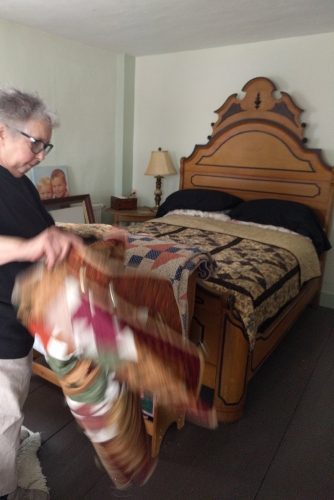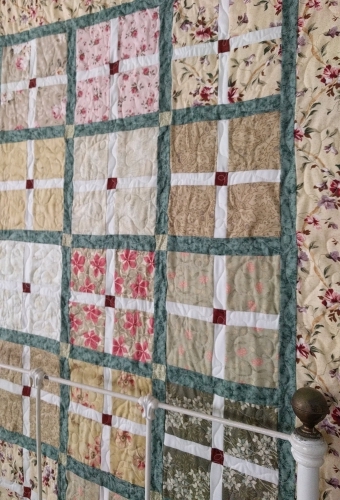 Sylvia has a well-equipped sewing room for her quilting. Colorful squares of material are everwhere, and quilts decorate the walls upstairs and down.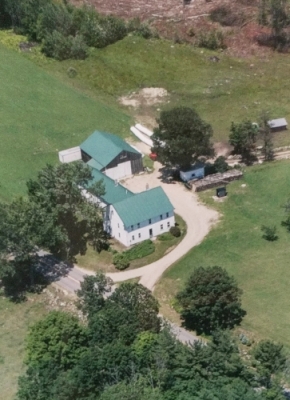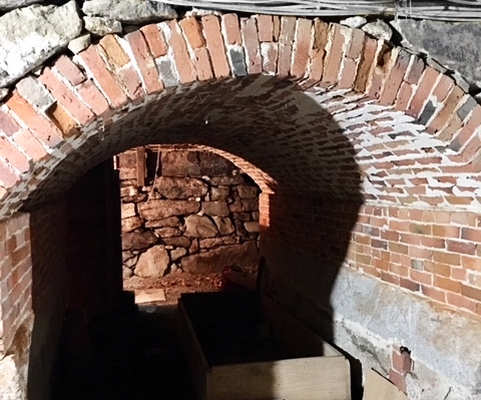 Bing and Sylvia put a new metal roof on their house and barn after part of the old roof blew off in a storm.
The "brick vault" chimney base was popular c.1800; it once supported a massive central chimney, which has been removed.
Bing Chancey died in March 2016, when he was 80. His funeral was at the Wilson Hill Farm; everyone in town came to pay their respects. Bing's friends brought a cannon up to the farm and fired it once in his memory, using extra black powder so that the sound echoed across the valley. Bing is buried in the small family cemetery, from which I took the photograph at the top of this page.
—Dan R. 2018