New Boston, New Hampshire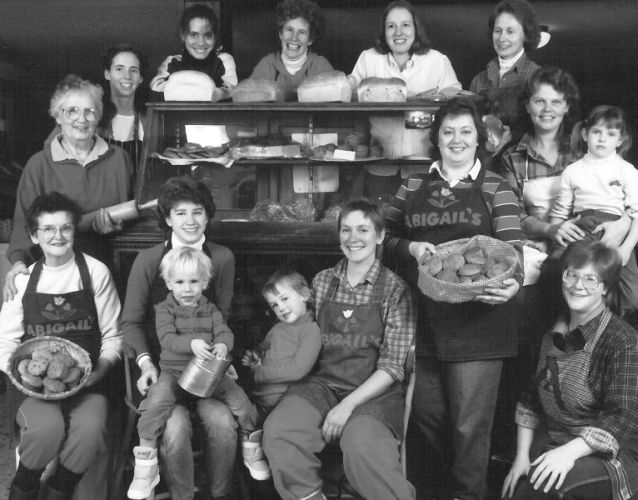 Abigail's Bakery on Mill Street
Front: Josephine Cummings, Jennifer Olson with Ben Ballard, Anna and Cyndie Ballard, Donna Magarian and Cheryl Smith.
Back: Doris Byrer, Linda Granger, Daisy Foote, Candy Woodbury, Diane Olson, Jean Cummings, and owner Debbie Gilligan holding Erin.
---
Made in New Boston
Businesses from New Boston's Past
This page will highlight some of the interesting businesses which once operated in New Boston. Do you remember the fragrance of fresh-baked bread when Abigail's Bakery was located on Mill Street? This is now the site of the Northeast Cafe. Like many buildings in New Boston, it has served multiple purposes over the years. One hundred years ago it was the Morgan & Dennison meat market: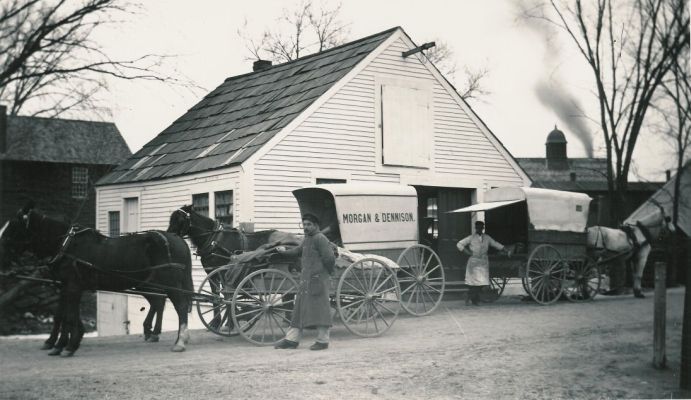 Just over the roof and to the right of the market you can see the roof of a barn near where the Apple Barn (New Boston Hardware) now stands. The present garden center next to the Apple Barn used to be the site of a green-painted NAPA parts store. This building, between Dodge's Store and the bank, was once a blacksmith's shop with a ramp leading up to a carriage maker's shop: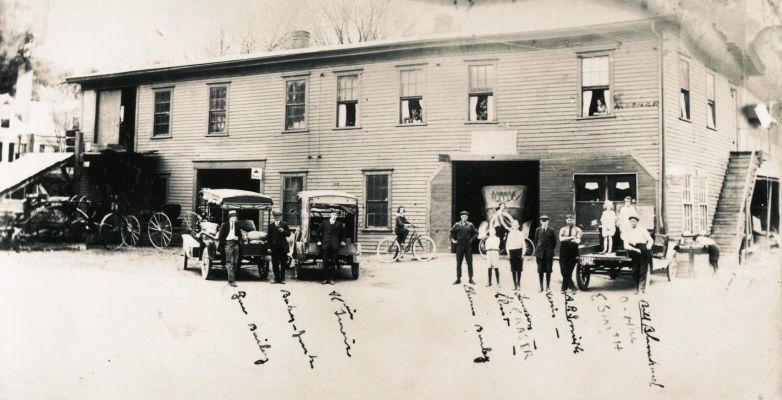 Later, this two-story building was a tie factory managed by Roland Sallada, who was also New Boston's selectman and state representative. It opened in 1947 and employed as many as 50 people. The ties definitely look better in black & white.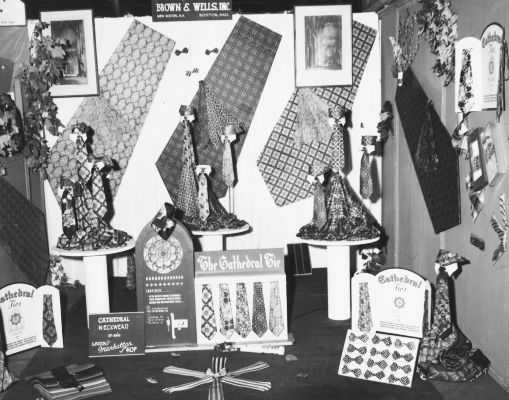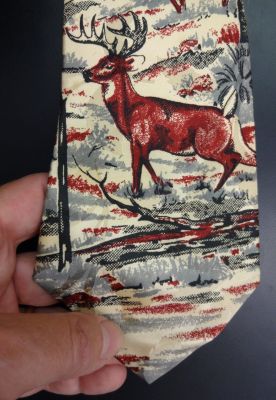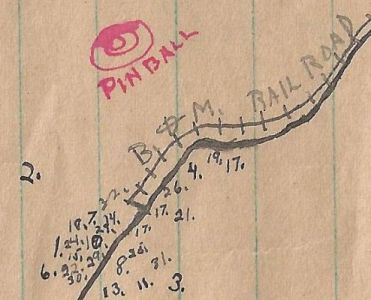 The village center of New Boston once bustled with activity.
For a school project in 1922, John Todd drew a map titled "Industries of New Boston", of which this is a fragment. You can see the Boston & Maine Railroad which was still in service along the Piscataquog River at that time.
John identified and numbered 32 industries. These included:
Lumbering, Farming, Poultry raising, Carpentering, Paper-hanging, Trucking, Automobile repairing, Harness-making, Dairying, Clerking, Box factory, Grist mill, Creamery, Blacksmithing, Saw mill, Railroading, Telephone operating, Undertaker, Doctor, Lawyer, Merchants, Teaching, Masonry, Butchering, Ministry, Druggist, Watch repairing, Tailoring and Cider making.
1922 Industries Map donated by Bob Todd
We have other web pages which describe New Boston's
mills
,
farming
and
the railroad
. So let's cross the bridge in the village center and look at the drugstore that is now Tate's Gallery and an insurance office. Ernest Hagland was the druggist, and he sold newspapers and ice cream sodas in addition to useful medicinal remedies like Swamp-Root.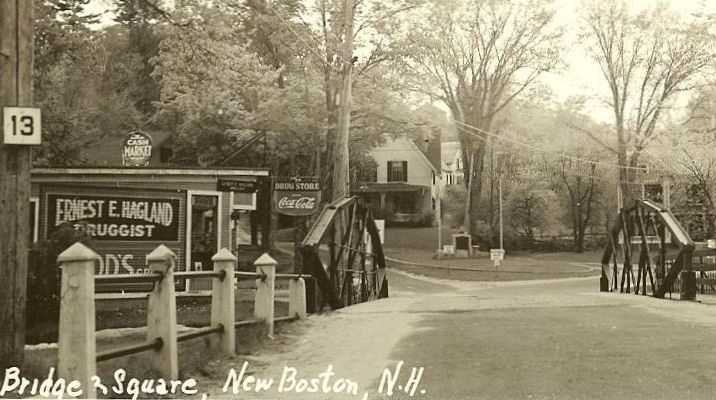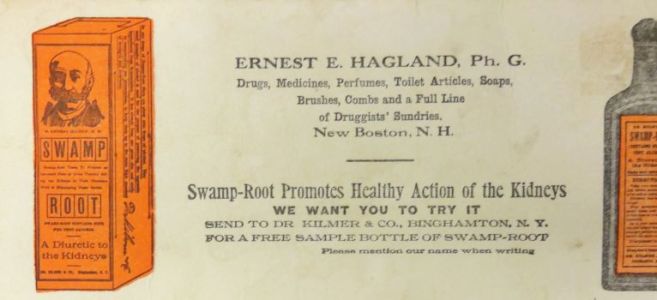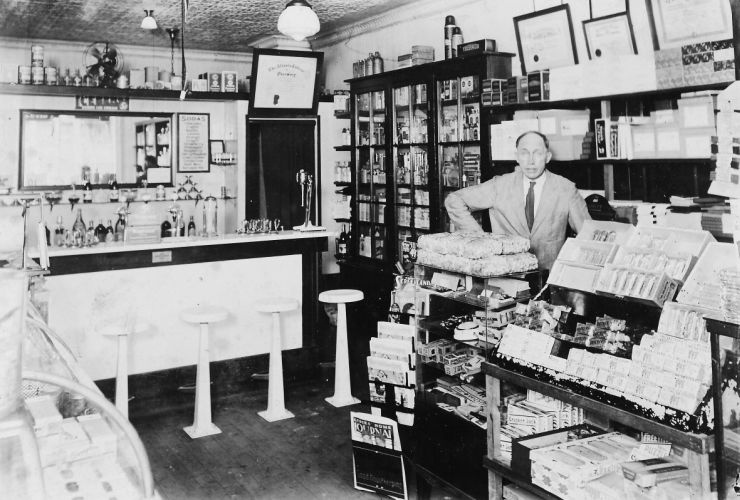 A 1940 newspaper article tells us about the time two men tried to rob Hagland's. Ernest was working alone, but he cried out for help from an imaginary assistant in the back room and the two robbers fled.
August 2014 update:
We did not know the date of this Ernest Hagland photo until his granddaughter Suzanne Wason studied a more detailed copy. Suzanne determined that the cover of the
Ladies' Home Journal
in the magazine rack matches the September 1932 edition. Great detective work, Suzanne!
After Hagland's, for many years this building was the home of Hunter's Angling Supplies which sold products world-wide. Wooden cabinets contained many small drawers with all the varied materials that a fly-tying enthusiast might need, and you could often see an angler standing in Central Square testing out a new rod.
---
John Todd's map did not list a violin maker, because in the late 1890's Charles E. Farley moved to Boston, MA from his New Boston workshop in the house which still stands next to Dodge's Store. Charles's wife Julia had drowned in the Piscataquog River during spring floods that also washed away the new Depot Bridge.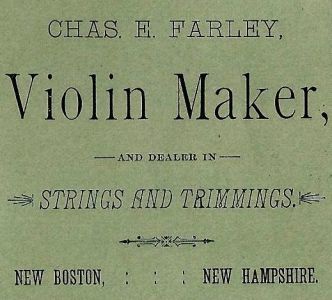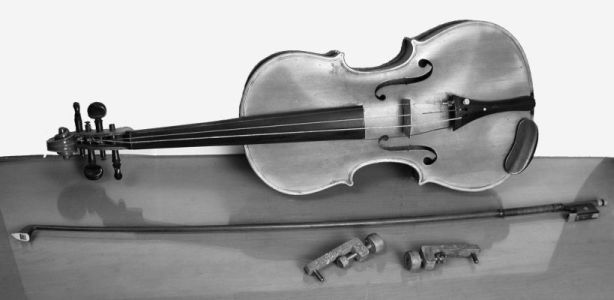 In his promotional literature, Farley wrote "I make violins out of new and very fine old wood. I have given much attention to the preparation of varnishes and I believe the Oil Amber Varnish, which I make and use, to be the same that was used by the old Italian makers. Being well made, with good wood and varnish, they will soon become valuable by use." Today, one of Farley's violins is in the
Museum of Fine Arts
in Boston.
---
John Todd drew his "Industries of New Boston" map in 1922 as carriage shops and harness-makers were disappearing, to be replaced by garages like Lawson Smith's and Houghton Brothers, which is now Daniels' Garage.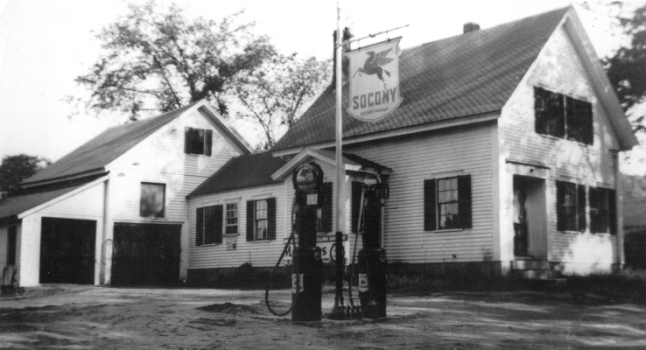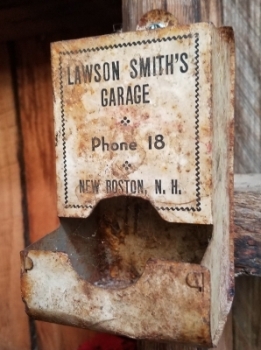 Smith's Garage in 1936; a match holder hanging in Jim Dane's sugarhouse in 2019.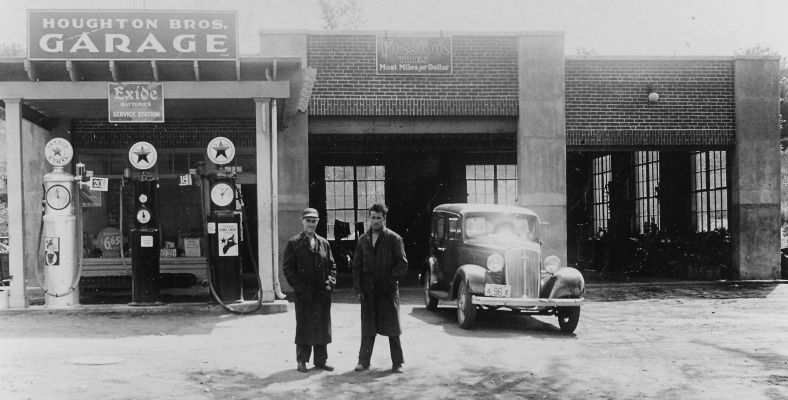 George Houghton and Les Tower are seen in this 1940s photograph.
Driving further along River Road in the 1970s and 1980s, hungry motorists would be able to stop and enjoy some of New Boston's most famous products: the fried onion rings made at Andy's Drive-In.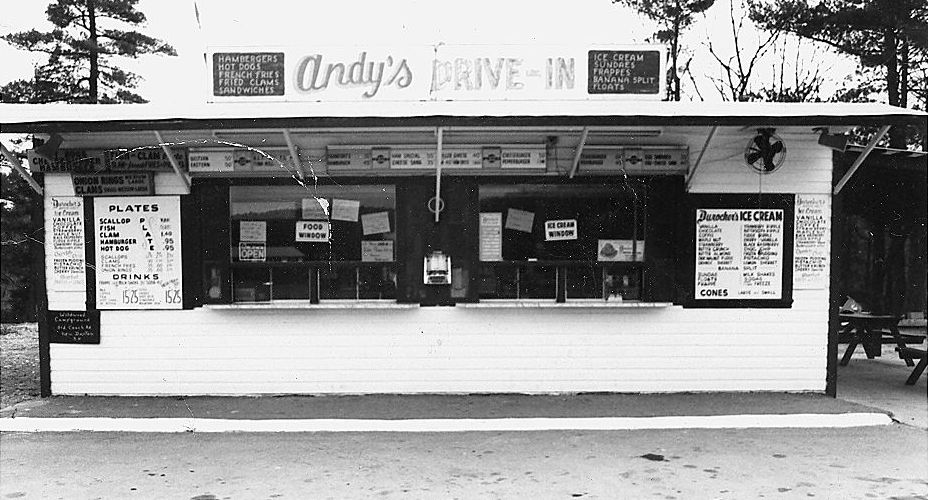 Andy and Charlotte Belanger and their eight children ran this restaurant for 27 years. Ronald Reagan visited Andy's in 1980 during his successful presidential campaign.
Later, this restaurant was the Riverside, Putnam's Waterview and briefly Shipwreck's Restaurant. Then a former White House chef named Damian tore down the old drive-in and built a very up-scale restaurant which opened just in time for the recession. Without onion rings on the menu, the new restaurant did not enjoy the success of Andy's Drive-In.
---
This ends our tour of businesses from New Boston's past.