New Boston Historical Society
New Boston, New Hampshire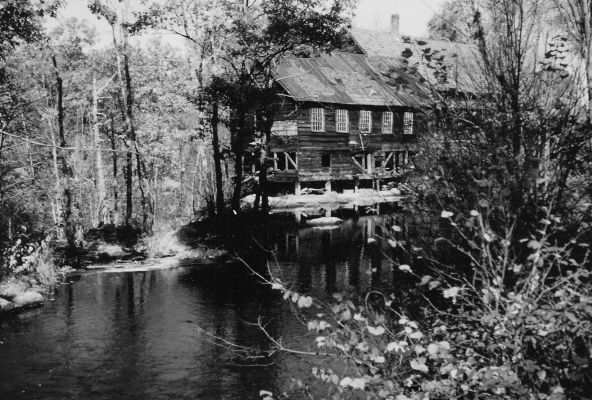 Hadley's Mill was built on the site of a 1751 mill. Photo from 1930s.
Mills on the Piscataquog River
New Boston's Water-powered Mills
New Boston's earliest settlers needed saw-mills immediately to mill logs into lumber for their houses, barns and furniture. They needed grist mills to grind wheat and corn into flour. Fortunately, the Piscataquog River and the streams which flowed into it provided a ready source of water power. Eventually there were as many as fifty mills powering New Boston's industries, and some were still in use as late as the 1950s.
Cogswell wrote in his 1864 History of New Boston "The first mills erected in New Boston were on the middle branch of the Piscataquog, a little above the mills now owned by Daniel Gregg. The contract for these mills bears the date Nov. 25, 1736... These early mills were of great advantage to the settlers, and no town in New Hampshire has better water-privileges for the kind of mills here needed, and no town has had a greater number of them. Other towns were for many years debtors to them. Francestown, Lyndeborough, Antrim, and towns even more remote, in their early settlements depended upon these mills to grind their grain and saw their boards."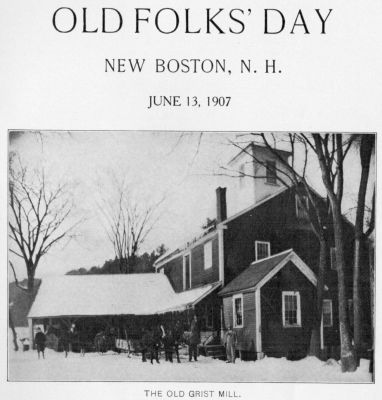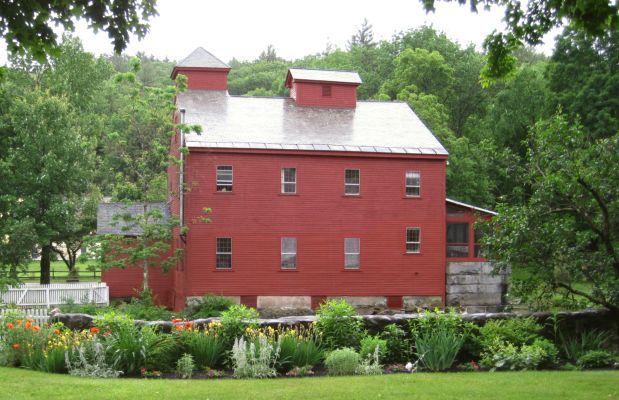 The Old Grist Mill, now called Parker's Mill, is just up Mill Street from the Historical Society.
The following information about New Boston's mills is from an appendix to the town's 2006 Master Plan Update, entitled: "Old Mills in New Boston" written by Winfield "Binny" Clark.
---
Old Mills in New Boston
Cogswell devotes a chapter in his History of New Boston to describing the early waterpower mills in the town. Saw mills and grist mills were crucial to early settlers, so these mills were the first to be set up by the original proprietors of the township. The earliest on record was the Gregg Mill, built in 1736 on the Middle Branch of the Piscataquog. Over the years, many other types of mills took advantage of New Boston's favorable conditions for water power: it has plentiful year-round streams and rivers together with hilly terrain. Cogswell lists 48 mills, mostly saw and grist, but later including mills for making wire, axes and hoes, for carding wool and making clothing, and for building mirror frames, chairs, doors and even piano frames. Unfortunately, Cogswell cites only the then-present owners' names, so pinpointing the exact locations of many of these mills is difficult today.
Of these 48, only three are now standing:
Parker's Mill
(orginally White's Mill) on Mill Street in the village dates from about 1800-1810. It continued operation as a grist mill up until World War II, when it became a Merrimack Farmers Exchange. At that time, the mill machinery was removed, but the circular burr stones, imported from France, still remain. The dam gave way in 1997 and cannot now be rebuilt.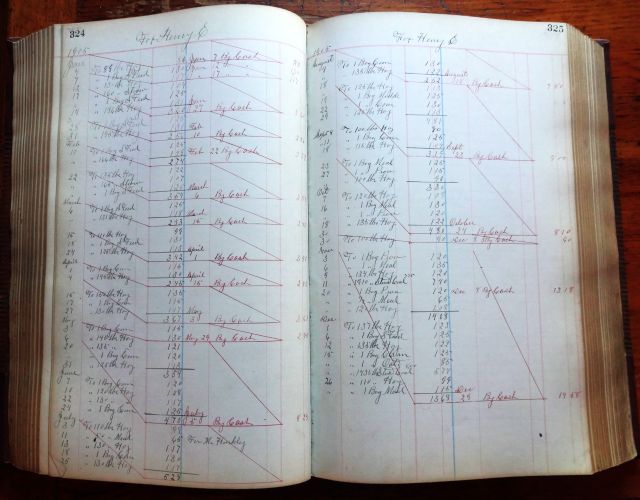 1905 ledger book in Parker's Mill
Neville's Mill
, built circa 1850, is located next to the Molly Stark Tavern. [In 2009, Neville's Mill was remodeled to become the Gravity Tavern, now Molly's Tavern.] This mill produced axes and "sharps." It once had a mill race running from a dam below the present-day hardware store. Remnants of the mill race can be seen behind the Post Office. The water gardens by the entrance to the restaurant are set in what remains of the sluiceway. [In 2011, the new library was built near the dam site and mill race entry.]
Hadley's Mill
on Tucker Mill Road was a saw and grist mill. The dam is well-preserved. A recent owner installed a hydroelectric turbine within the mill building, which is now a residence.
Even though the actual wooden structures of other early mills have disappeared, their dams, sluiceways and foundations can still be seen.
On the Middle Branch of the Piscataquog, starting from the outlet of Scobie Pond and heading in sequence downstream:
The Morgan & Andrews Bedstead Factory
- An 8 ft. deep mill race, dug long before any power equipment existed, ran for 1600 ft to this site. It is located near the road to Scobie beyond the Monastery.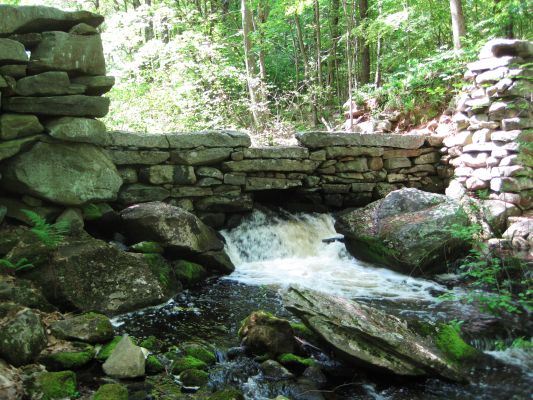 Dam for Morgan's Mill, near One Hundred Acre monastery.
Morgan's Mill
- a saw mill. The beautifully-constructed stonework mill dam is still standing. It is visible from the road just before the Monastery.
Colburn's Mill
- a shingle mill. It was located off Rt. 136, near the western end of Colburn Rd. It was powered from a millpond on a tributary of the Middle Branch.
Andrew's Chair & Knob Factory
- off Colburn Road near Todd's Corner. A threshing mill was attached.
White's Grain Mill
and
Smith's Saw Mill
were downstream from Colburn Rd, before Tucker Mill Rd. Only traces remain.
Hadley's Mill
on Tucker Mill Rd, mentioned above, was a grain and saw mill.
Note:
An 1858 map of New Boston shows another saw- and grist-mill just downstream, by the home of "G. Hadley", near today's Dougherty Lane bridge. There were a number of Hadleys in New Boston and Weare, and possibly more than one "Hadley's Mill". However, the existing mill on Tucker Mill Road was definitely called Hadley's Mill in the 1940s and 50s. Willard Dodge remembers his father dragging timber to this mill to be sawn.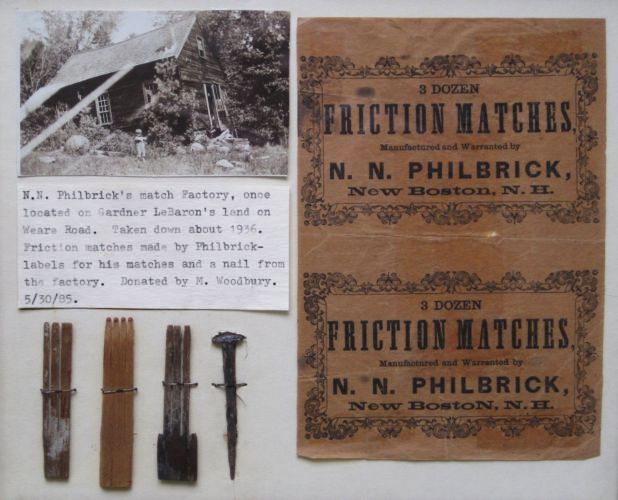 N.N. Philbrick made matches in the old Woodbury's Saw Mill.
Woodbury's Saw Mill
, later a match factory, was located where Rt. 77 crosses the Middle Branch.
Gregg's Mill
(mentioned above) located at Gregg Mill Farm was the earliest mill in town, built in 1736. The mill building had to be torn down in the 1980's, but the dam and sluiceways are still functioning. (described in Cogswell, pg. 217 ff)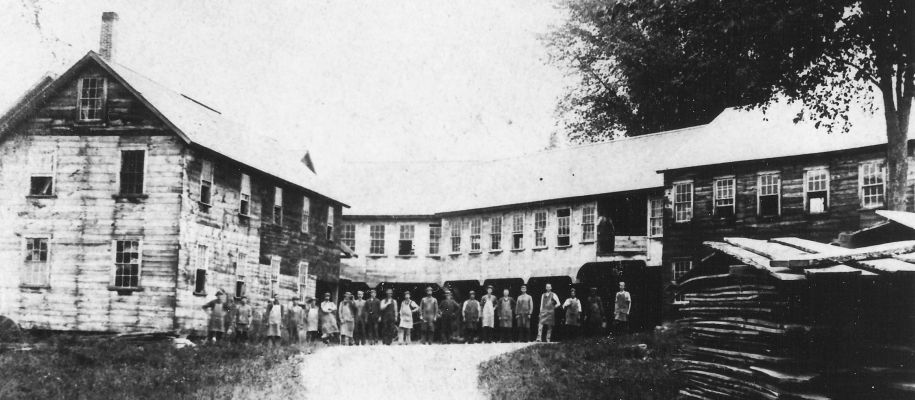 David "Newt" Butterfield stands in the upper doorway of his mill, which was almost 100 years old when this photograph was made in 1891.
On the South Branch of the Piscataquog, heading downstream from the Lyndeborough town line:
Butterfield's Mill
(called Gage's Mill in Cogswell, pg. 220) Originally a box factory, later a grist and planing mill and finally a saw mill.
King's Mill
-- a flouring mill, located near the bridge in Gougeville. [A 1976 article by Rena Davis states that King's Mill later became the Paper Mill.]
The Paper Mill
-- Gougeville was called "Paper Mill Village" for a time. The mill's tall brick chimney stood slightly downstream from the Gougeville bridge. It was torn down in the 1950's for safety's sake. A carding and clothing mill was located in the same area.
Muzzey's Mill
(called Warren's Mill in Cogswell, pg.221) A saw mill, located near the first bridge on Lyndeboro Rd, heading west. The dam site is still visible.
Marden's Mill
- a shingle mill. The exact site is uncertain.
Bose's Mill
- a saw mill, was located on the right side of Rt. 13 heading south from Lyndeboro Rd. The millpond was fed by a small stream, near the present log houses.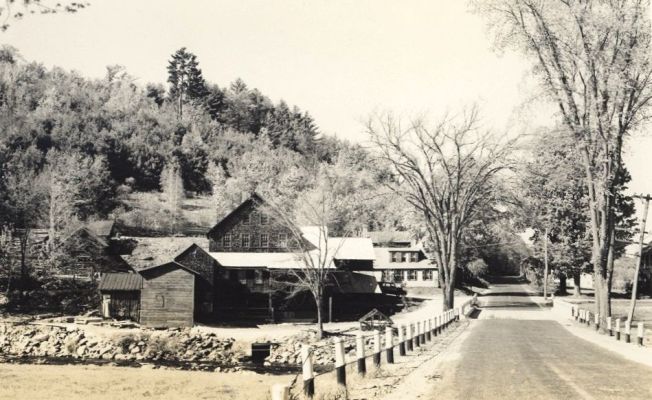 Sutherland Mill was called Kirsch's Saw-mill when this photo was taken. Only its foundation remains.
Sutherland's Mill
-- located next to the bridge on Rt. 13, across the highway from the hardware store [now an antique shop next to New Boston Pizza]. The stonework is still evident. It was probably fed by a millrace from the Third Dam (aka Kirsch's Dam.) Mirror frames were manufactured there; later wooden pegs. It operated well into the 20th century. [Walter Kirsch manufactured boxes here until the 1950s. The mill was demolished in 1975.]
Neville's Mill
(as described above) [now Molly's Tavern]
Parker's Mill
(as described above)
Originally, there was a grist mill located on the site of the old blacksmith's shop which stood next to the bridge in the center of town.
The Tannery
operated where the present Creamery building stands, behind The Apple Barn. The fire of 1887, which destroyed much of the village, is thought to have started there.
The Hydroelectric Plant
- the Town's electricity was once supplied from a dam downstream from the Depot. Page Wilson, one of the town selectmen, ran it. When he decided to go to bed at night, he would turn off the generator and everyone's house would go dark!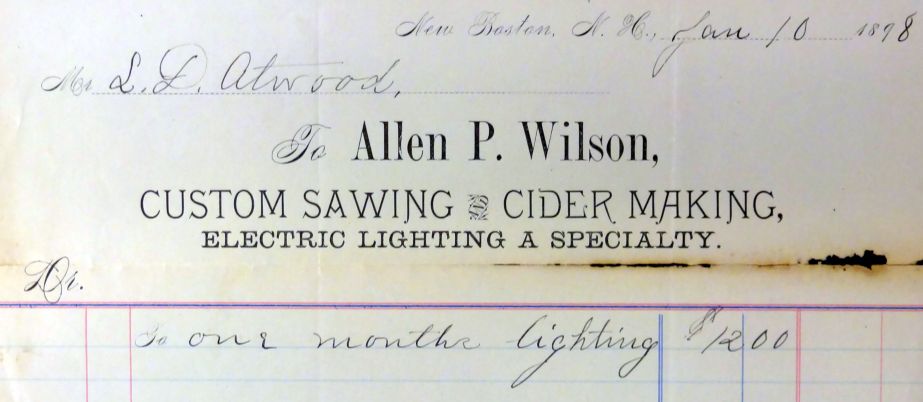 In 1898 this electric lighting bill was $12.00 for one month.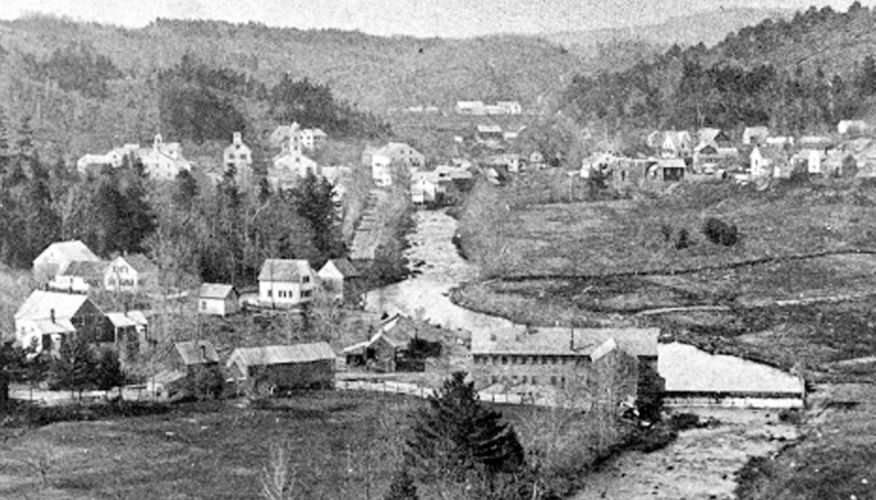 This photo of the 1852 Door Factory predates the 1887 fire and the 1893 Electric Plant.
We do not have many photos of New Boston village before the fire.
The photographer was probably standing on Pinball Hill (above the 4-H Fairgrounds).
The McLane Door Factory
was located near the bridge leading to the Fairgrounds. A piano-frame factory was connected to this mill. [Cogswell wrote about the piano-frame factory "The wood-work is all executed here, and the cases sent to Boston ready for the metallic parts." In 1872, Mr. Farley made 900 piano cases while the McLanes made 5,400 doors on the other side of the factory.]
Downriver from this mill, the Piscataquog became difficult to control, so there were no mills until further down the river below Howe's Bridge, where a saw mill was located. [Not completely true; see "Two more mills" below.]
Other mill sites -- many other mills were built on smaller streams through-out the town.
Some of these sites are easily located:
Near Sunday Rock there are mill sites next to both Bedford and McCurdy Roads.
Wilson's Mill
was a saw mill on Bog Brook.
Goodwin's Mill
was a saw mill at the foot of Cochran Hill, off Old Coach Rd.
There are ruins of other mills throughout the town. It is in the interest of the town to preserve all such sites whenever possible --they are important artifacts of our early history.
-- The text above is from the Town of New Boston 2006 Master Plan Update appendix by Winfield "Binny" Clark [with my updates in brackets].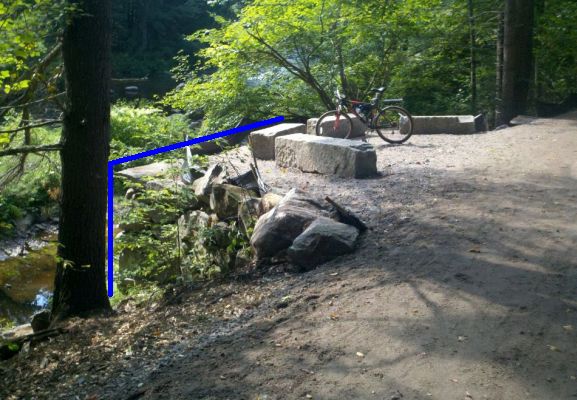 Mill site on New Boston Rail Trail
Two more mills on the South Branch
When a section of the New Boston Rail Trail was renovated in the summer of 2015, four granite blocks were placed on an old stone abutment to provide a place to sit and to remind people not to fall into the river. The purpose of the abutment, highlighted in blue in the photo above, was a mystery.
Our first clue is that the 1858 map of New Boston shows "S.M." at this location, indicating that there was a saw mill here. But no saw mill is listed in "Old Mills in New Boston" at this location on the South Branch of the Piscataquog. Historical Society president Dick Moody puzzled over this for weeks, visiting the Hillsborough County Registry of Deeds to confirm his suspicions.
Dick believes that this stone abutment is part of a saw mill built some time in the late 1700s by James Willson (Willson with two L's) who lived in a house near the top of Wilson Hill Road (Wilson with one L) now owned by the Chanceys. Look in the river upstream from the site along the Rail Trail and you'll see an old "sluice" or "mill race" which channeled the water from a mill pond (no longer visible) to the mill. James Willson later sold his saw mill to Elias Dickey, who lived on Beard Road not too far from this mill site. There's a large barn foundation still visible near the Dickey homestead.
Cogswell wrote in 1864:
"Elias Dickey's Saw-mill was built by James Willson and others, and rebuilt by Mr. Dickey. This, too, has passed away, the timber in its vicinity having disappeared, as in the case of others."
Cogswell also mentions another mill:
"William Andrew's Saw-mill was built by 'Honest' Peter Cochran, and came into the possession of his son, Deacon Abraham Cochran."
Dick Moody's research indicates that this mill was a hundred feet upstream of today's bridge into the 4-H Fairgrounds. Granite blocks are still visible here.
Another interesting note: Jim Dane told Dick that he remembers Bill Mason using his steam shovel to clean up the Piscataquog River. New Boston village was flooded on several occasions and the town wanted Bill to move aside any boulders that might create natural dams when trees floated down the river. Dick wonders if some remains of early mill sites were disturbed by this river maintenance.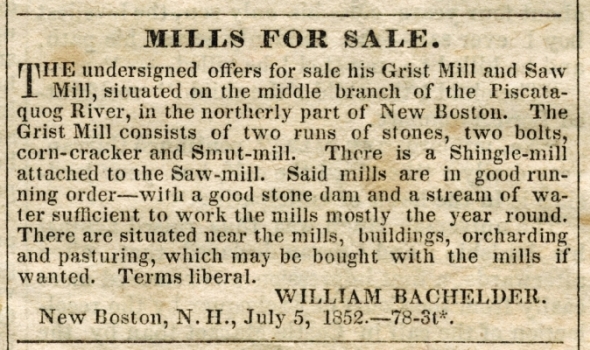 1852 advertisement in The Union Democrat
A "smut mill" cleaned black, sooty fungus from the grain.
A New Boston mill in the Henry Ford Museum?
The Historical Society worked with the New Boston Central School 4th grade classes on a "Mills of New Boston" interactive exercise in October 2012. As we researched the topic of mills with long-time New Boston residents, an interesting story kept popping up. Did Henry Ford, the inventor of the Model T, once visit New Boston to buy a mill for his Henry Ford Museum and Greenfield Village? Was machinery from Bose's or Hopkins Mill moved to Henry's Michigan museum? Or was it a mill in the Riverdale part of town?
We wrote to the Henry Ford Museum and Greenfield Village, and received a reply from their Research Center:
In the early years of the organization, cataloguing and inventory tracking was inconsistent - a historical fact that has never ceased to plague the curators of Henry Ford's collections. This fact alone makes it difficult for us to locate and update records.
With this in mind we checked our collection database and archival records for information or anything mentioning New Boston or the Hopkins or Bose's Mills. Unfortunately, no information can be found as to the location of the artifact(s) you are inquiring about. The closest we came was a shingle saw from a Colburn Mill located in South Weare, New Hampshire.
This was an interesting reply, as there was in fact a Colburn shingle mill in New Boston, not too far from Weare. It's described in the 1864 Cogswell "History of New Boston". Were parts of this mill later moved to South Weare, or did Henry Ford's agent write down the wrong location?
---
Pictures of a Gougeville Millsite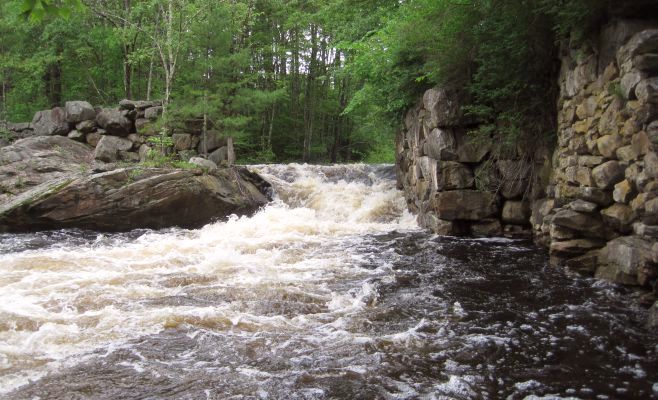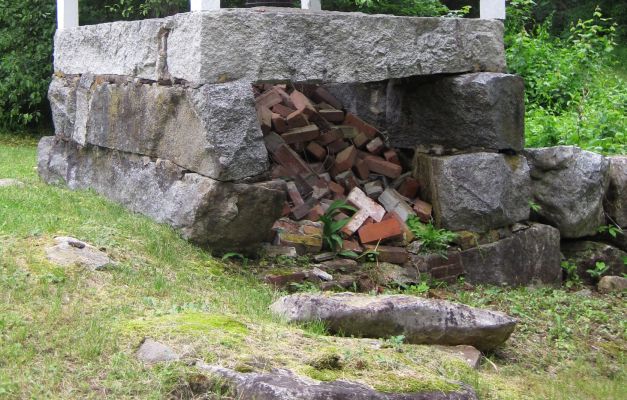 Dam site at Paper Mill Village near the Lyndeboro Road bridge.
Only the base of the mill's tall brick chimney remains.