New Boston Historical Society
New Boston, New Hampshire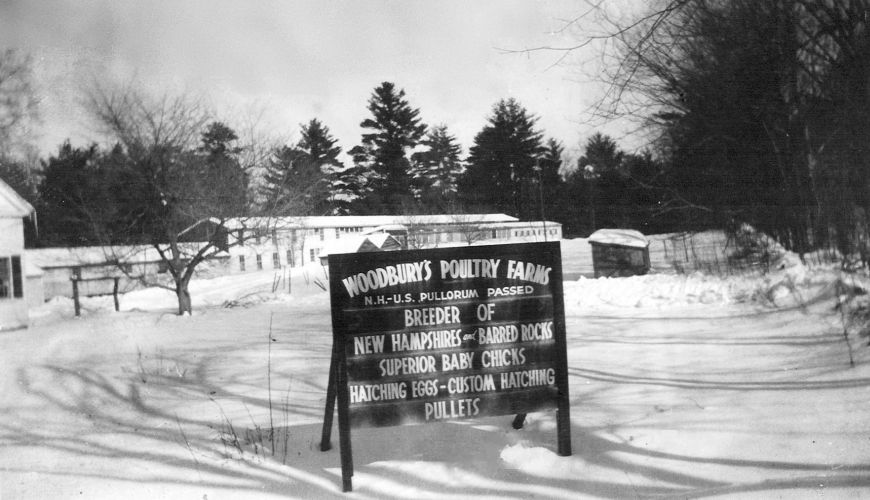 Woodbury Poultry Farms on the Weare Road - 1941
An Eggsplosion of Chickens
The Chicken & Egg Industry in New Boston
In the year 1900, there lived in New Boston 1,000 men, women, and children — and 1,000 chickens, too. By 1944 there actually were
fewer people
living in our town than in 1900, but the rooster and hen population had exploded to 40,000! What happened?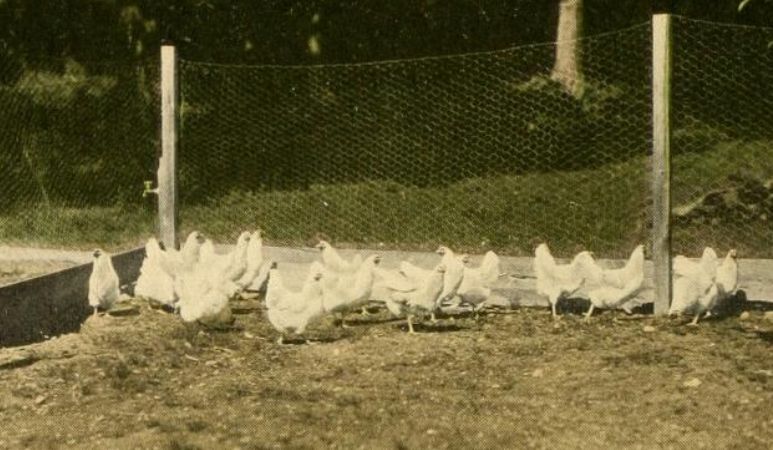 These "White Plymouth Rock" hens laid brown eggs for the Valley View Farm.
New Boston's rocky soil has never been much good for growing things, except bigger rocks, so our farmers sought other ways to make their fortunes.
Sheep
were profitable for a time, in the 1830s.
Dairy cows
provided income, and there were
apple orchards
everywhere.
In the years from 1930 to the late 1950s, it seemed that
chickens and eggs
would provide the path to prosperity. Harold "Bo" Strong remembers his grandmother Laura telling her husband George that
she
had 300 hens, and
he
had a barn full of cows, and her hens were making more money!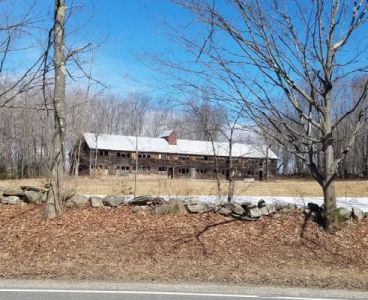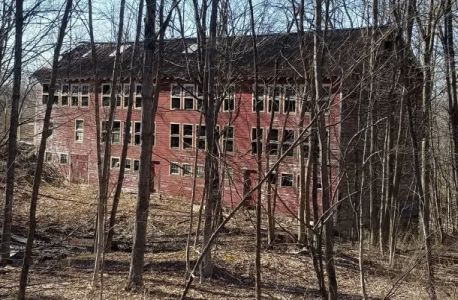 The Elliott hen house on the Francestown Road & the Tautkus hen house on the Bedford Road
The local egg business was a small-scale industry, at first. People bought a few hens and built little chicken coops to keep them dry, and to protect them from foxes and owls. After they made some money selling eggs, the farmers bought more chickens and built larger hen houses, just as all their neighbors were doing. A few of the big hen houses remain in New Boston today — some are three or four stories tall.
1938 Map of New Boston showing location of Poultry Farms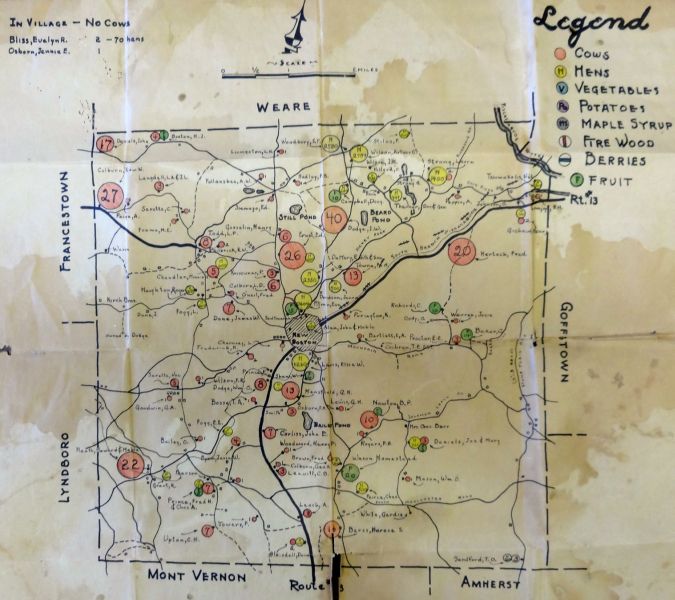 (Click on the map once or twice to see a larger image.)
The Historical Society has a 1938 map of New Boston's "Commercial Agricultural Production" hand-drawn by someone at the Department of Agricultural Economics in Durham, NH. The map shows the relative sizes of herds of cows (orange circles) and flocks of chickens (yellow circles). Big chicken farms owned by the Wilson, Woodbury, Hilliard, and Strong families in the northeast corner of town each had over 1,000 hens.
Once you had a few hundred chickens, or a thousand, you began to invest in fancy equipment. For example, you might want a motorized conveyor belt to automate the grading of eggs, and that cost money. Deb Keiner showed me in the cellar of her Lull Road home a Cugley Incubator that was the size of two refrigerators, with dozens of racks for the trays of eggs. The stone walls of the cellar were painted silver in hope of reflecting heat and reducing fuel bills. This was once the Theuner house, also known as "The Mighty Fine Egg Company."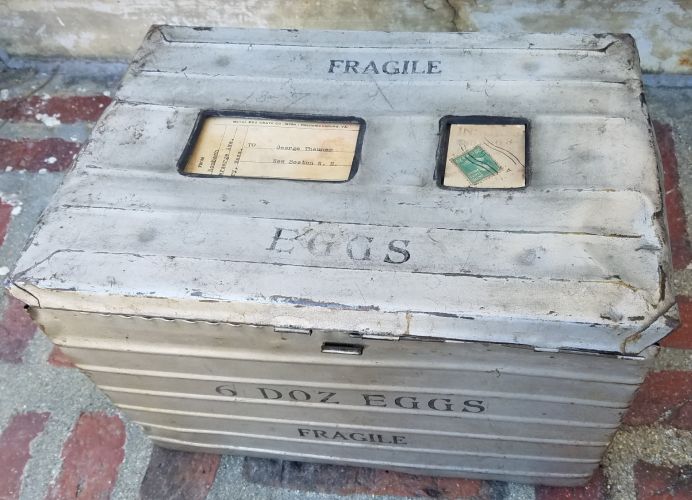 The Theuners shipped this egg box to Boston full of eggs.
The hotel flipped the address card over to return the now-empty box to New Boston.
George and Dorothy Theuner sold their eggs to Boston hotels. These were "table eggs" — meant to be eaten — as opposed to "hatching eggs." They were most likely brown eggs, which were and are the preferred color for the New England market. White eggs are more popular elsewhere in the United States.


One of these eggs was a New England favorite.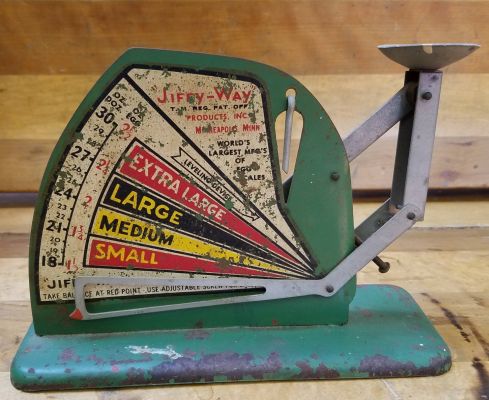 Egg scales used to grade eggs — lent by Paula LeBaron.
New Boston farmers sold eggs for eating, eggs for hatching, and "broilers" — chickens for the dinner table. Business was good, for a while, but the New Boston chicken and egg industry was doomed by two economic trends: higher feed prices combined with lower egg prices. The U.S. Department of Agriculture reported that prices paid for large eggs in Boston plummeted from 57 cents per dozen in 1957 to 47 cents per dozen in 1964.
Meanwhile the cost of chicken feed here in New England was going up, which gave the giant chicken farms of the Midwest a competitive advantage. The Karanikas poultry-processing business in Goffstown was bankrupt by 1963, and New Boston farmers were lucky to get pennies on the dollar for the chickens they'd sold.
The New Boston Town Report, my source for chicken population data, last published an inventory of fowls in 1967, by which time there were only 725 roosters and hens in town, fewer than when the Great Chicken Boom began a hundred years ago.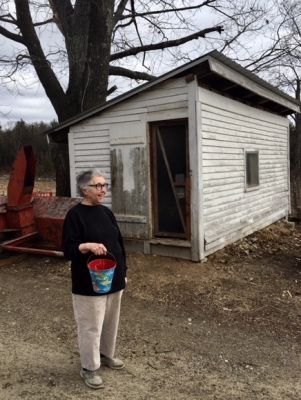 Sylvia Chancey keeps a few chickens on her Wilson Hill Farm.