New Boston Historical Society
New Boston, New Hampshire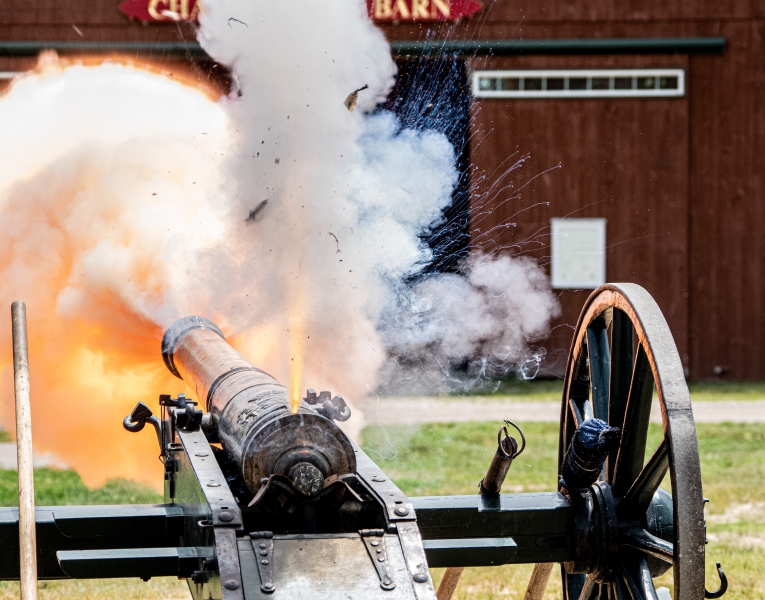 Molly Stark Cannon — July 4, 2019
Photo by John Poltrack
Photography in New Boston — Part 2
In
Part 1
of this series, we looked at "Photography in New Boston" in the 1800s and 1900s. In Part 2, we'll see how 21st-century technology helps the Historical Society document New Boston history.
The remarkable photograph at the top of this page was taken by John Poltrack at the Fairgrounds on the Fourth of July, 2019. The
"Molly Stark" cannon
, made in 1743, is one of New Boston's oldest and most famous artifacts. I've seen it fired a dozen times; never before have I seen the jet of flame erupting from the cannon's vent, as captured by John's photo.
John is an accomplished photographer, and the son of Historical Society volunteer Betty Poltrack. I asked him how he captured the exact moment that the cannon fired. John said he used "burst mode" on his Olympus digital camera to take 15 frames per second, and he selected this one image from among 48, the product of a three-second burst. The camera was hand-held, not mounted on a tripod. The exposure was 1/2000th of a second.
Early cameras required many seconds (if not minutes) to make a single black-and-white photograph. Glass plates were expensive; no photographer could afford to take 48 photographs of the same scene. John Poltrack's photo made me think about how other changes in camera technology impact the work of the Historical Society, today and in the future.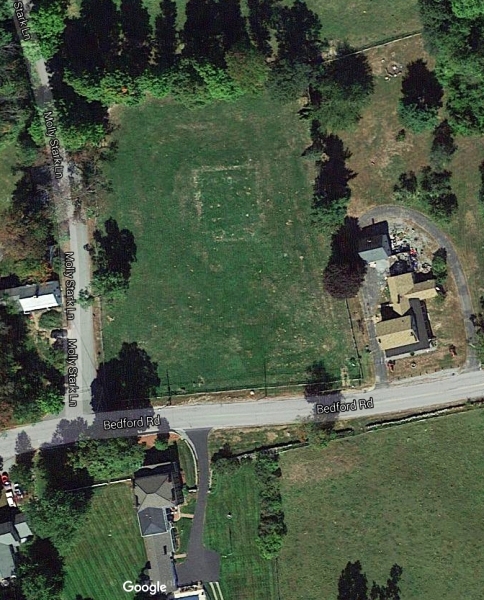 Satellite view of a field at the corner of Molly Stark Lane and Bedford Road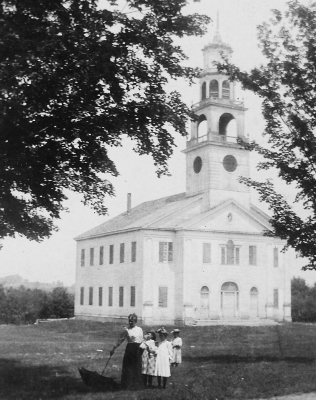 Satellite cameras
Google and Microsoft provide access to satellite images of New Boston which help us determine the location of houses with respect to roads, other buildings, and the river. The
"Church on the Hill"
(right)
burned to the ground in 1900, but the ghostly outline of its foundation is visible in a satellite image from 2015
(above)
, after a dry summer.
Street-view cameras
Google and Microsoft also send cars with roof-mounted cameras along the streets of New Boston to take photos for Google Maps "Street View" and Microsoft Bing Maps "Streetside". The array of cameras atop each car takes up to 30 pictures per second as the driver explores our town; I estimate that a half-million images must be stitched together for complete coverage of New Boston's 100 miles of roads. At the Historical Society, we use Street View and Streetside to help determine the current location of houses in our collection of old photographs.
In the example below, you may see a house on the Mont Vernon Road in a photo from 100 years ago and in a current screenshot from Streetside. The color Streetside photo, timestamped 2015, is already ancient history. This house was subsequently damaged by a fire, torn down, and replaced by a new home.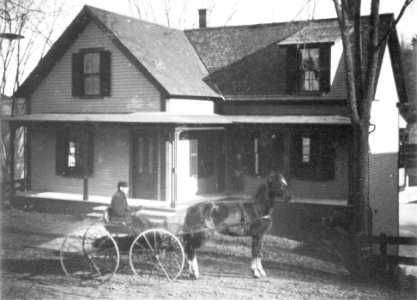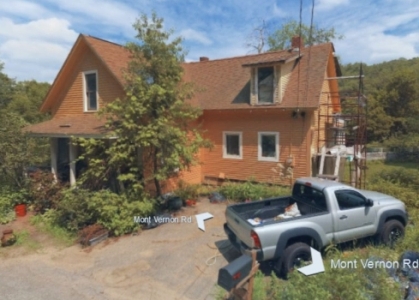 11 Mont Vernon Rd a century ago (left) and in 2015 (right)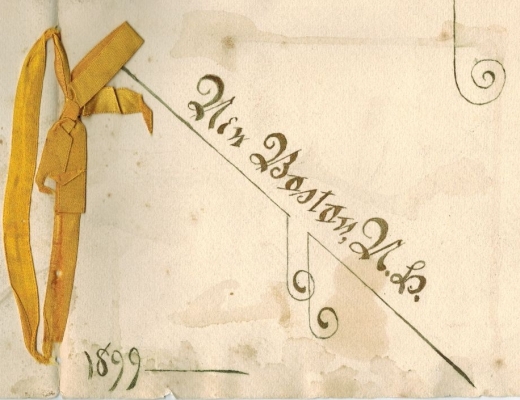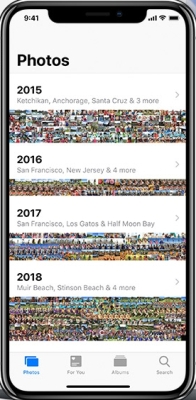 Photo albums from 1899 and 2018 (iPhone image from apple.com)
A camera in every pocket
In 1899, Myrtie Mae Atwood was one of the few New Boston citizens who owned a camera. In 2019, almost everyone has a camera that's built into their phones, which they carry with them at all times. People now record their every daily activity (including what they ate), so future historians will theoretically have an infinite number of images to study.
There are practical concerns: How many of these digital photos will be saved, and where? How will we search millions of images for relevant content? Will services like Facebook and Instagram be available 50 or 100 years from now, or will their contents be archived somewhere?
Among the Historical Society's most valued possessions are old photo albums. The best photo albums show people and places
and
have descriptive labels, with names, locations, and dates. Other albums include photographs that would be of great interest to us, if only we knew what they were about!
Does anyone still keep a family photo album? I mean, one with actual printed photographs? Or is your iPhone's digital photo album the only record of your family's history?
Facebook stories
When I presented "Reinventing the Historical Society in the 21st Century" to the New Hampshire Archive Group some years ago, I identified Facebook as one of our new tools.
There are at least two New Boston Facebook groups with 2,000-plus members who have some connection to our town. If I post a historic photograph to either of these groups, I almost always get helpful feedback — especially if I make any mistakes in my description!
I've met many interesting people in the New Boston Facebook groups, people who have old and new photos to share. I'll end this page with two stories about Facebook and the Historical Society.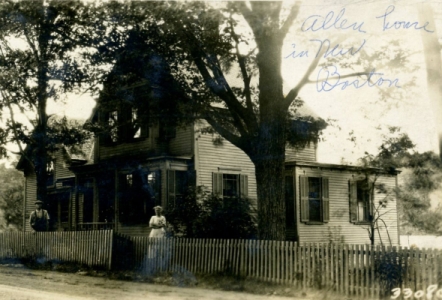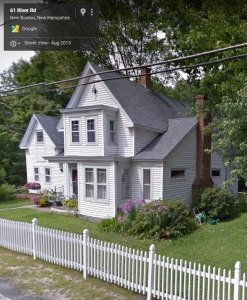 "Allen home in New Boston"
Photo from a family album compared to Google Streetview
1. Edith May Allen
Edith May Allen was born in New Boston in 1890. She taught in the "Joe English" Schoolhouse #4 at the end of Meadow Road when she was 22 years old. (Edith lived to be 102.)
In April of 2017, Edith's granddaughter Joyce Biss posted on Facebook a century-old photo of the house where Edith's parents John and Estella Allen once lived, and asked if the house was still standing. The New Boston group debated this for about 24 hours, until Bart Lanzillotti recognized it as the house on River Road where Howard and Frances Towne now live, and posted a link to Google Streetview to prove he was right. (We confirmed this with an old map.)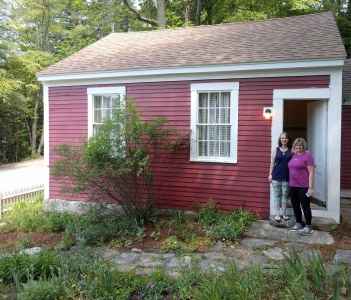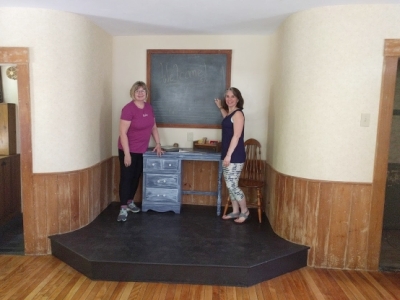 Joyce and Libby in Schoolhouse #4
Joyce visited New Boston two months later with her niece Libby. The Townes invited them into their home, where Edith once lived, and the Poole family was kind enough to open Schoolhouse #4 for us. (The red schoolhouse, where Edith taught, was later the home of David and Nonah Poole.)
2. The Byam Barn
I began this page with a remarkable photograph by John Poltrack, a photo which I first saw on Facebook, and I'll end it with two more images, by Elizabeth A. Governanti, someone I met through Facebook.
In 1941, Donald and Dorothy Byam moved to a farm on River Road with their daughter Beatrice (whom you may know as Bea Peirce). Bea spoke about her
memories
of this farm in 2015.
When I noticed that the farmhouse and barn had disappeared, sometime in the past year, I wished I'd been able to take some pictures, but it was too late. Therefore I was delighted to see wonderful photos of the Byam farm's barn, posted by Elizabeth on Facebook — a record of New Boston history which otherwise might have been lost.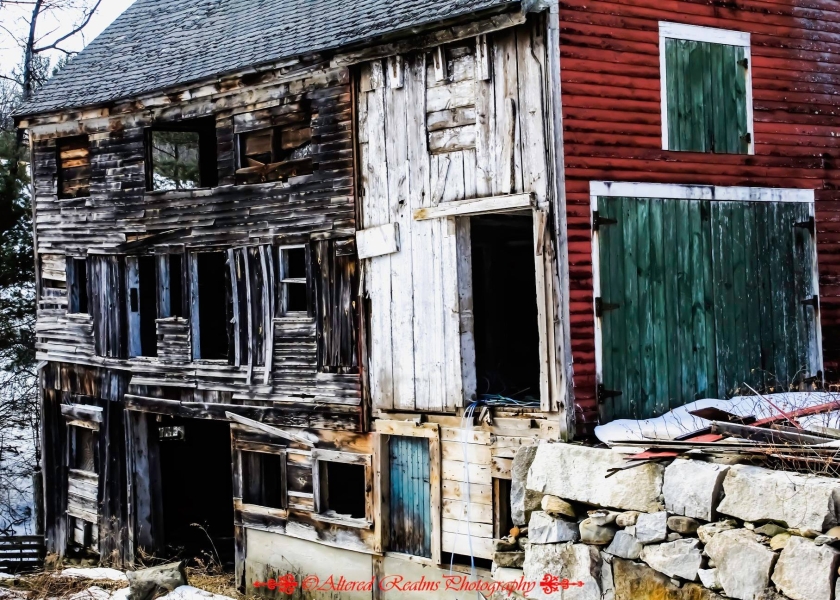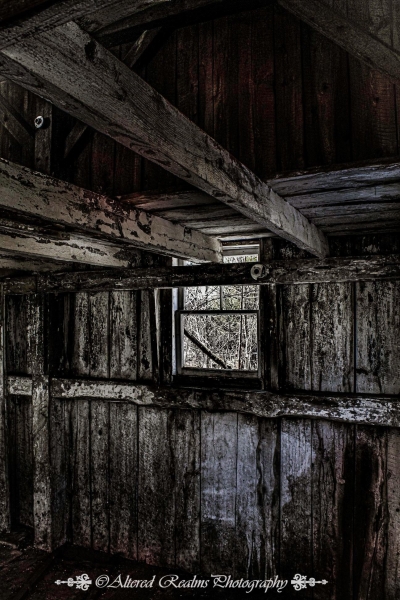 Photos of the old Byam barn by Elizabeth A. Governanti

I contacted Elizabeth through Facebook Messenger for permission to include two of her photographs on this page. She invites you to view more of her images on her Facebook page,
Altered Realms Photography
. Elizabeth uses Photoshop and Lightroom to enhance her photos, 21st-century tools which remind me of the 1860s hand-tinted ambrotype of a Civil War soldier on our "Photography - Part 1" page.
The Historical Society exists to collect and preserve stories, and stories are prompted by photographs. Elizabeth's Facebook posts in June 2019 prompted readers' memories of the Byam farm, memories which included Don delivering milk door-to-door: "Farm fresh with cream on top!" Mary Reeves remembered: "Don delivered our milk and would give us a weather report for the day! I think the kids would add or subtract a layer of clothing with the report!"
The Historical Society looks forward to collecting many more photos of New Boston history, and stories, too. You needn't use Facebook; we also welcome e-mail and mail in envelopes with postage stamps on them:
New Boston Historical Society
Mailing address: P.O. Box 595, New Boston, NH 03070
E-mail:
newbostonhistoricalsociety@gmail.com
--Dan R. 2019