New Boston Historical Society
New Boston, New Hampshire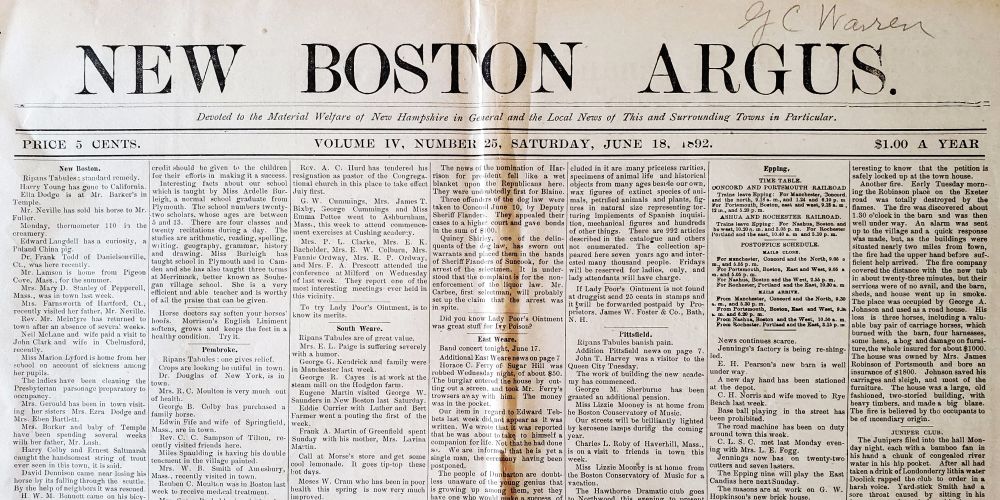 New Boston Argus — 1892

New Boston's Newspapers

The
New Boston Argus
of the 1890s is the first New Boston, New Hampshire newspaper of which we have any record. The
Argus
was published weekly in Manchester, NH, and contained "News of This and Surrounding Towns in Particular." In other words, brief columns of news for about 30 towns were printed in every issue, and the "flag" at the top of Page One was changed for each town, so that New Boston subscribers received the
Argus
and Goffstown people read the
Chronicle
, with similar content.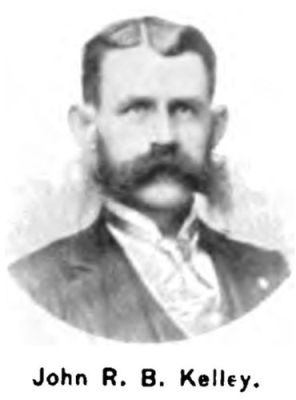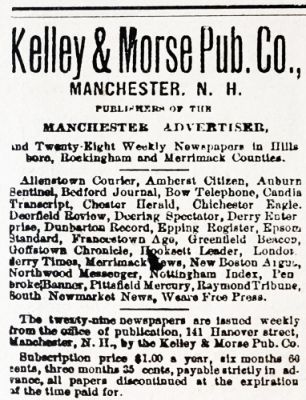 J.R.B. Kelley and F.H. Morse of Weare were the publishers in the early 1890s
New Boston was a busy town in the 1890s, a decade in which the railroad arrived in New Boston, and Whipple's Valley View Farm was the town's largest employer. Articles in the
Argus
inform us of the arrival of two Swedish milkmaids to work in the Creamery, a flood which washed away two bridges ("with a crash, into the waves"), and a 3-pound eel caught in the river by Arthur Cochran.
In 1891, it was reported that:
"Charles Fox shot a fox Monday, greatly to the joy of the poultry raisers in that vicinity."
"New Boston Base Ball club played with the Goffstown's Saturday and were badly beaten."
"The posts are nearly ready to set, and lamps bought for the street lights, which will be eighteen in all."
"Almus Smith recently found a stone chisel on his farm, which was undoubtedly made by the Indians hundreds of years ago. It is of flint stone about two inches wide and eight inches in length, and it is to be seen at the store of C. H. Dodge."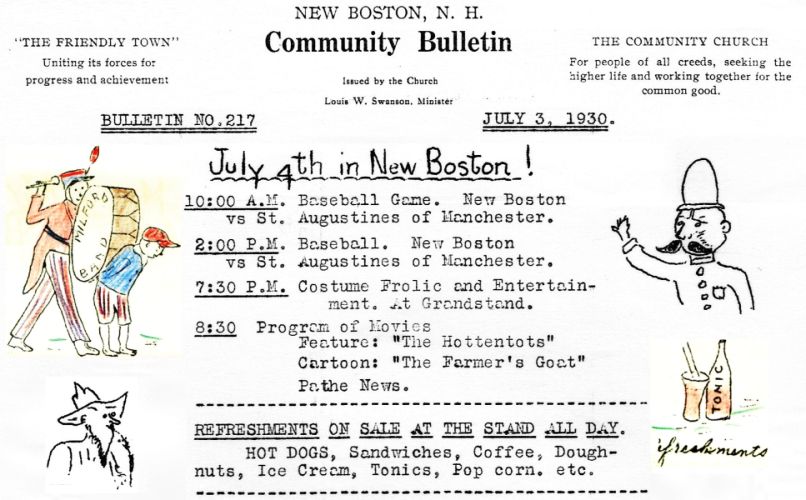 Reverend Swanson's Community Bulletin began as a church newsletter
In the 1920s, 30s, and 40s, Reverend Louis Swanson published
The Community Bulletin
, also a weekly newspaper. He printed 500 copies per week on a mimeograph machine, and some issues had sketches drawn by Rev. Swanson that were "artistically colored in crayon" by young ladies. We have copies of the
Bulletin
in our files which bear one-and-a-half cent postage stamps.
In July of 1923, the
Bulletin
announced: "Our new moving picture machine is now ready for use. On Thursday evening this week at eight o'clock at the playground, eight reels of high class pictures will be shown (including Harold Lloyd in comedy). If it rains, the show will be given in the Town Hall."
In 1934, during the Depression: "Mr. Clayton Sargent, mail carrier, announces that the fare on his bus between New Boston and Goffstown has been reduced from 35 cents to 25 cents."
In August of 1942, during World War II, there was a call for recycling: "Save your scrap iron, steel, brass, aluminum, etc. Wash your used tin cans. Remove labels. Remove bottoms. Place tops and bottoms inside can and flatten can. Leave cans at Dodge's store... This is your chance to help the war effort. Save everything you can. Get your stuff in to the collection centers. And don't forget to buy war bonds!"


The Better Times — 1962 to 2000
The New Boston Betterment Association published
The Better Times
from 1962 to 2000. This monthly newspaper was supported by donations; at one Town Meeting voters appropriated funds in the operating budget should the donations be insufficient.
In 1962, a notice in The Better Times informed that "Little tykes just love to hear records. The Kindergarten mothers are saving S&H Green Stamps toward a record player for use as a teaching aid." An exciting Fourth of July program was planned for 1963, our town's bicentennial year. There were parades, a speech by the Governor, a ballgame (New Boston vs Goffstown again!) and entertainment featuring the Velvet-Tones Barbershop Quartet.
A final note from 1963: "The Old Mill Pond and Grist Mill has been subject of many a photograph and painting. A young couple from Nashua, Randy and Gail Parker, are making the old mill over into a comfortable home. They plan to paint the outside of their home red." (The Red Mill appears on the
mill
page, and in 2020 it is still the Parkers' home.)



New Boston's 21st Century newspapers
Brandy and Jack Mitroff published the
New Boston Bulletin
from 1998 to 2017. Brandy and her reporters documented news and events from Town Meeting to the Fourth of July parade to the Agricultural Fair, with several pages of Central School photos in every month's issue. The Historical Society has recently published a book of selected columns written for the
Bulletin
by Bob Todd; Bob's column
"In the Country"
was about nature and local history.
After Brandy retired, Keith Gentili started the
New Boston Beacon
(2018-present). The
Beacon
is distributed monthly at no cost to all New Boston mailboxes and is available in local stores; there is also an e-edition. Look for the Historical Society column on page 6.
From the
New Boston Argus
to the
New Boston Beacon
, printed newspapers have informed and entertained the people of New Boston for over 100 years. Be informed — read your newspaper!