New Boston Historical Society
New Boston, New Hampshire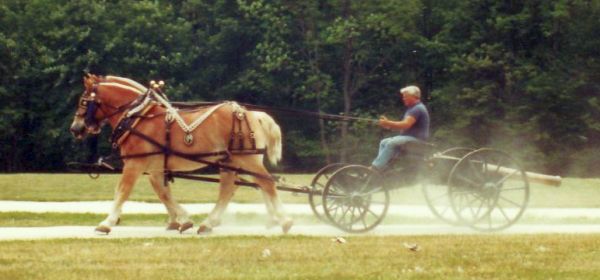 The Gun Carriage of the "Molly Stark" Cannon
The Molly Stark cannon is mounted on a gun carriage that was used to transport the cannon to the battlefield. For many years, the Molly Stark rode on a carriage that is believed to date from the War of 1812. The carriage is almost 200 years old!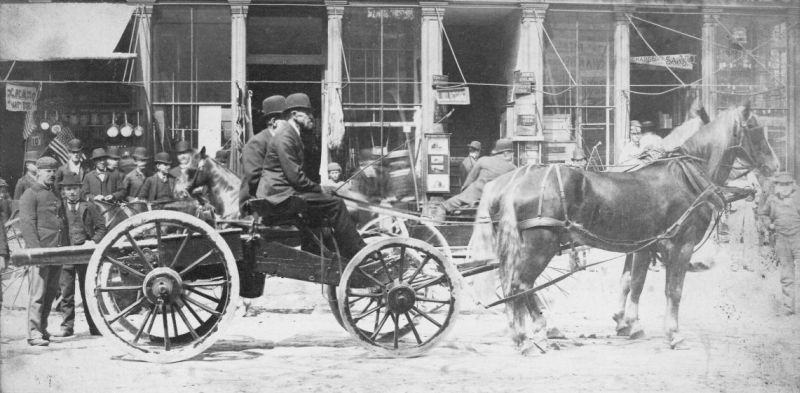 Undated photo of the Molly Stark cannon and gun carriage in Manchester N.H.

This historic carriage required a lot of maintenance. For example, the spokes of its wooden wheels were loose, and Tom Mansfield used to soak the wheels in a pond for a few days before the 4th of July so that all the parts fit together snugly for the parade. The New Boston Artillery Company decided that the best way to preserve the old gun carriage would be to construct an exact replica to be ready for the Molly Stark cannon's 250th birthday in 1993. Dave Wilson and Warren Houghton built the new carriage over the winter of 1992-1993.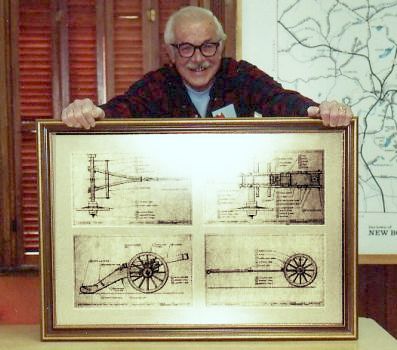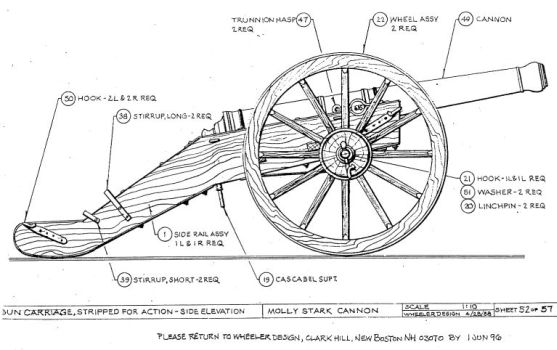 Ray Wheeler prepared more than fifty pages of detailed drawings of the original carriage in 1988. The new carriage is an exact duplicate of the original.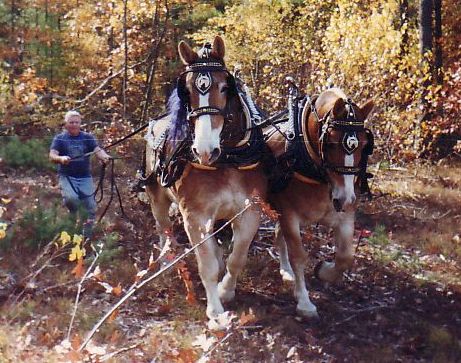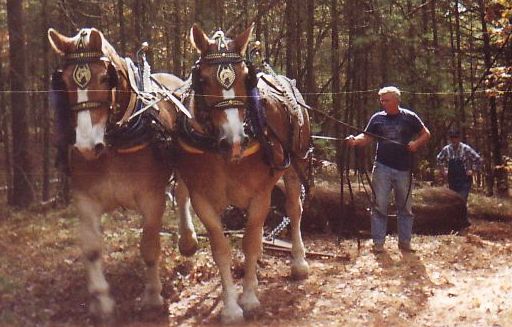 Oak trees were felled on George Strong's property and a team of horses owned and driven by Walt Williams pulled the logs out of the woods. The lumber was milled at Riley's in Milford.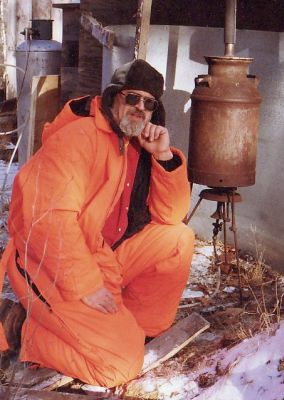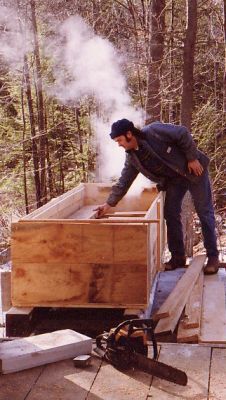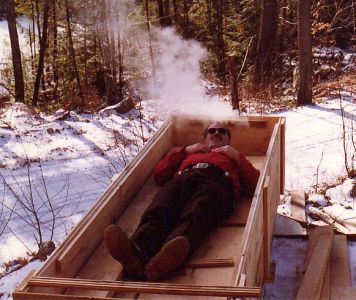 To ensure that the oak was seasoned without warping, bowing or checking, the men revived an old technology: steaming the wood to drive out sap and moisture. David Wilson checks the milk-can boiler while Lester Byam stacks the boards. David thinks the wood needs more weight.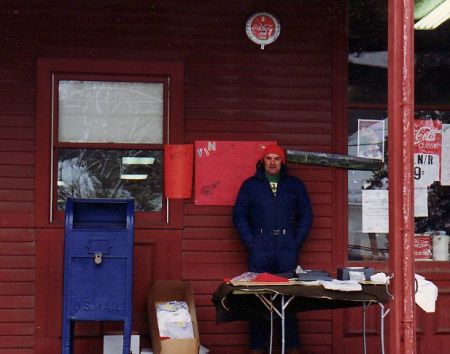 To raise funds for the carriage project, raffle tickets were sold from the porch of Dodge's Store by the old post office.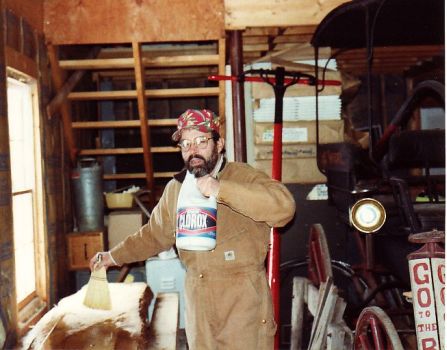 Brent Armstrong prepares an oak board with bleach. Note the old Tavern Carriage and traffic signal.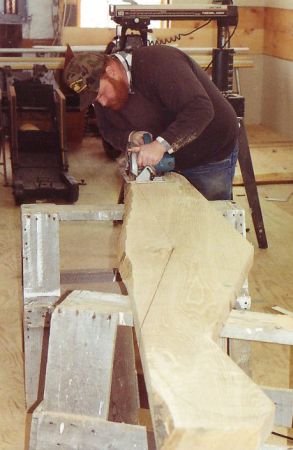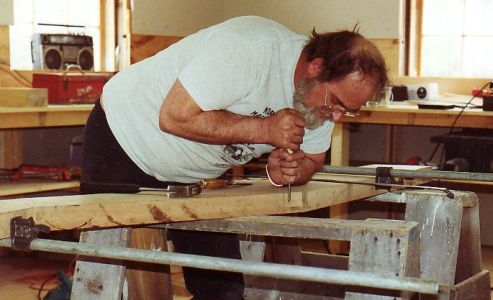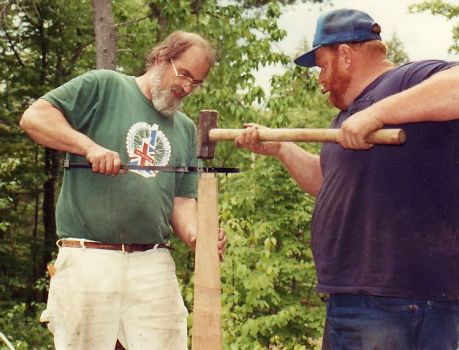 David Wilson and Warren Houghton worked on the carriage throughout the winter. When I asked David's brother what David and Warren were doing in the last photo, Mark replied "Obviously something requiring delicate carpentary precision; if it had been rough work, Warren would've had a bigger hammer."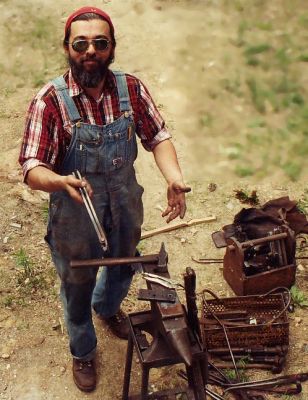 Steve Tanzini, a blacksmith from New Ipswich NH, produced custom ironwork for the gun carriage.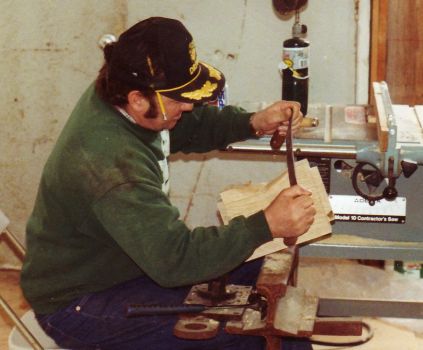 Lester Byam uses a draw shave.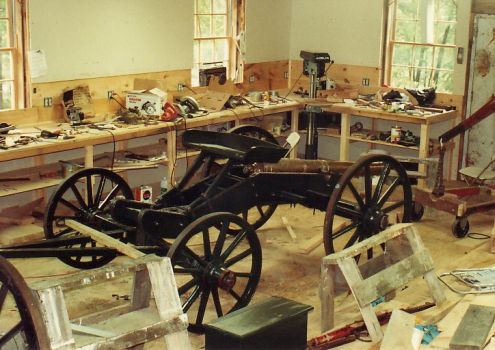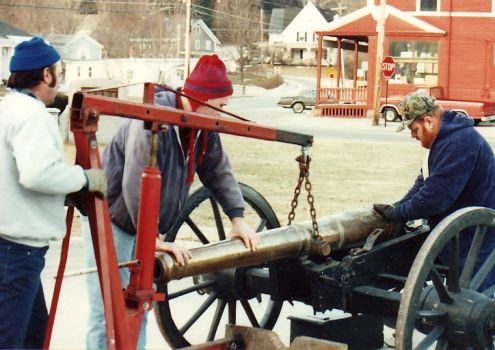 The finished gun carriage sits in David's workshop. Bill Barss modified an engine jack to lift the cannon by its trunnions.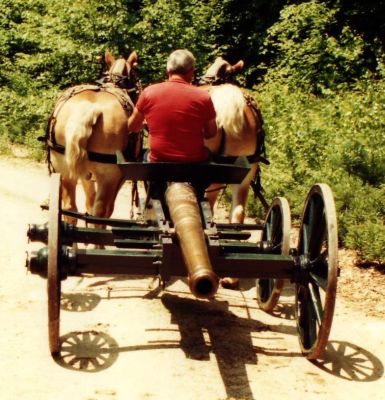 Walt Williams drives his team of Belgians with the 1743 "Molly Stark" cannon on its new carriage.


---
The Molly Stark cannon and one of its gun carriages are usually on display in the New Boston Historical Society museum.
The Historical Society thanks Cyndie Wilson for the use of the photographs.